5 Ways to Prepare Your Home for a Sauna
Posted on 01 December 2020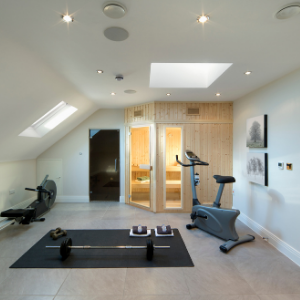 It's no secret that this was a tough year. Due to the global shift to working from home, many people are trying to find ways to renovate their space to make it as comfortable as possible. This might include a home gym or bathroom renovation that would be perfectly paired with a new home sauna. Many homeowners consider purchasing a home sauna but takes a while to decide to take the plunge. With home sauna kits, it is now easier than ever to purchase and install brand-new home saunas. With little or no DIY experience, you can now build a custom sauna in as little as one day! However, once you have decided to install a sauna in your home or cottage, there are a few important steps to prepare your space for the new sauna. Here we have helped outline all the steps you will need to take before installing your new home sauna.
Identify the Perfect Location
The most important step when installing a new home sauna is deciding where you want it to be built. There are plenty of options for location in homes and cottages. Many homeowners will choose to place their sauna into or beside their bathrooms or even next to their home. While others may choose to install theirs in a poolside cabana or outdoor structure. No matter where you choose to put your sauna, you will want to make sure it is accessible and fits with your lifestyle. Do you prefer to stay warm and cozy year-round? An indoor sauna is probably the best choice. However, if you are flexible with the weather, you might prefer to install an outdoor sauna.
Depending on your desired sauna experience, it will impact where you choose to install your new sauna. If you are interested in home saunas for personal use, you will likely want a small room inside, which will heat up faster and be more accessible. If you are hoping to use your sauna for entertaining, you may want a larger space outside.
Insulate Your Space
Once you have decided on the location of your home sauna, you will want to prepare the space. Although home sauna kits include everything you need to build the "inner skin" of a sauna, you will need to do a little bit of DIY work to prepare your home. First, you will want to frame the area where you will build your sauna. This may be inside of another room (such as a bathroom) or it may be inside of a space such as a cabana or poolside cabin. Framing will provide structural support to your new home sauna.
Once your space is framed, you will want to add insulation. We recommend fibreglass insulation for both the walls and ceiling to help keep the heat inside your new sauna. A foil faced vapour barrier will then help to protect the rest of your home from the build-up of heat and moisture. The vapour barrier is included in all home sauna kits sold by SaunaFin.
Following the framing and insulation, you will be ready to install the "inner skin" of your new home sauna. All these materials will be included in your home sauna kit. Western red cedar panels will be used for walls, ceiling, and flooring in addition to all seating and backrests. This creates the warm, wood-smelling interior of a traditional sauna. Your kit will also include the sauna heater and its controls as well as lighting, doors, and windows. Once it is all installed, you will have a custom home sauna that can be used anytime.
Check for Electricity
In addition to lighting in your home sauna, electricity will be important for your sauna heater. Home saunas will require a reliable electrical input for their safe operation. As you are preparing your home for your new sauna, it is a good idea to get in touch with a licensed electrician to assist with any required wiring. Depending on the type of sauna you install, you may require more or less assistance to ensure your sauna can safely reach the desired temperatures of 160°F-190°F.
Customize
Home saunas offer plenty of opportunities to customize based on your personal preferences. With home sauna kits, you can design every element of your new sauna: from the type of heater to the style and design of the overall sauna. When designing your home sauna kit, you will be able to choose the size that fits best with your home or cottage. You will also be able to add any sauna accessories such as a thermometer, wooden bucket and ladle, or additional hooks and lighting features. With the help of SaunaFin, you can browse our range of accessories and sauna heaters to design a kit that includes everything you need for a one-of-a-kind home sauna experience.
Purchase Your Kit
Once you have identified the perfect spot in your home, framed and insulated your space, and identified your desired accessories, it's time to purchase your custom kit. At SaunaFin, you can order your home sauna kit for delivery throughout Canada and the USA. Once your kit arrives, you will be able to install it in your desired location in as little as one day!
At SaunFin, we deliver anything from prefab saunas to specific kits to suit any home or budget. All our kits contain beautiful Western red cedar panelling, flooring, benches, and doors to create an authentic sauna experience. All our kits can be easily customized to include your desired sauna heater and any accessories you want as part of your sauna experience. Our indoor prefabricated kits make it easier than ever to build a home sauna and can be constructed in as little as one day! No matter what your experience with DIY projects, our kits walk you through the installation process in easy to follow steps. To learn more about installing your own home sauna kits or to get more information on home saunas, visit us online or contact us at 905-738-4017.