5 Reasons to Get An Outdoor Sauna
Posted on 14 December 2020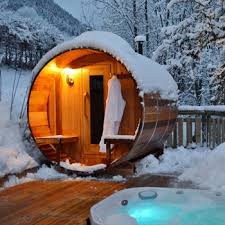 This winter, we are going to be trying to spend as much time as possible outdoors. With all the extra time at home, many people are searching for new winter hobbies and activities. A new outdoor sauna will help you make the most of the winter, without getting cold. Outdoor sauna kits make it easier than ever to build a custom home sauna to enjoy all year round. Sauna kits combine everything you need to build a custom sauna in your home or cottage backyard. Here are five reasons to purchase an outdoor sauna this winter.
Enjoy the Great Outdoors
With an outdoor sauna, you can enjoy the great outdoors without having to brave the cold. An acrylic bubble back barrel sauna provides panoramic views of your home or cottage backyard. From the inside of your sauna, you can relax and unwind in a warm and comforting environment. Outdoor sauna kits come in a variety of designs that feature windows and glass doors to let in plenty of natural light, without letting in any of the cold.
Improve Your Skin
During the wintertime, our skin needs a little extra care. The combination of cold and dry air can leave skin itchy, cracked, and irritated. In a sauna, you can create steam by splashing water on the sauna rocks. This creates a warm, steamy environment that hydrates and replenishes skin to leave it bright and dewy. Regular sauna use can help to improve the look and feel of skin this winter. A great way to help the skin recover after a windy day on the slopes!
Kick Start Muscle Recovery
After a long day of skiing or shovelling the driveway, your muscles will likely be screaming in pain. With an outdoor sauna, you can kick start your muscle recovery following a long day of winter fun. The warm environment of a sauna stimulates blood circulation to reduce inflammation and improve the feeling of tired and sore muscles.
Improve Sleep
During the winter, shorter days and reduced sunlight can start to impact the quality of your sleep. An outdoor sauna can help you to relax and unwind before bed and prepare the mind and body for sleep.
Reduce Stress
Many homeowners find that a sauna helps them to manage their symptoms of stress and anxiety during the winter. A sauna is a designated safe space to invest in your mental wellbeing. The warm environment helps to relax the body and relieve tension that builds up throughout the day. This is a great tool to transform your mental health during the long winter months.
At SaunaFin, we sell a range of sauna kits, including outdoor sauna kits, to help you build a custom home sauna this winter. Our kits are available in a variety of designs to help you make the most of your home or cottage backyard. With a new home sauna, you can relax and unwind after a long day at work or on the ski slopes. For more information on any of SaunaFin's sauna kits, contact us today at 905-738-4017.