The Advantages of Traditional Wood-Fired Saunas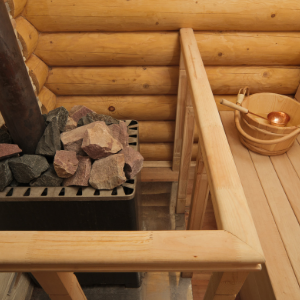 With custom home saunas, many homeowners are not sure where to begin when it comes to sauna heaters. Most sauna material kits can be customized to include one of the two main types of heaters: electrical heaters and wood-burning sauna heaters. Depending on the size and location of your home sauna, there are pros and cons to each of the main types of heaters. Many homeowners choose wood-burning sauna heaters for their traditional scent and reliance on wood as a fuel source. Here we provide a summary of some of the many advantages of wood-fired saunas.
Improve Your Aesthetic
Sitting around a campfire or a wood-burning fireplace, people are naturally drawn to the cozy and warm aesthetic offered by a roaring fire. The same is true with a wood-burning heater in a sauna. While you bask in the heat of your new home sauna, you can enjoy the unique and cozy aesthetic offered by a roaring fire. Traditional Scandinavian saunas always feature a wood-burning sauna heater, and many homeowners are choosing this option to align with the sauna tradition. The overall ambience and aesthetic of your sauna experience will benefit greatly from the integration of a wood-burning fire into an outdoor sauna at your home or cottage.
Decrease Operational Costs
If you have a steady supply of wood for a home or cottage fireplace, you will easily be able to decrease your sauna operational costs with a wood-burning heater. Unlike electrical sauna heaters, all you need for a robust, high heat wood-burning sauna is chopped wood. No electricity means your sauna building and installation process will be easier as you will not need an electrician to assist with an electrical heater's hook-up. With wood-burning sauna heaters, you can enjoy a traditional sauna session any time of day or night, even if the power goes out!
Experience a Traditional Sauna Scent
Traditional Scandinavian saunas used wood-burning sauna heaters to contribute to the overall experience of the sauna user. Beyond the beauty and tranquility of a roaring fire, you will also be treated to the soothing scent of a wood-burning fire. Relax and unwind your body and mind in the warm environment of a custom home sauna. Although electrical sauna heaters can still generate high heat, they cannot replicate the smell and complexity of a wood-burning fire.
At SaunaFin, we sell a range of sauna heaters including top-of-the-line electrical and wood-burning models. Whether you are looking for a wood-burning sauna heater to complement your traditional Scandinavian barrel sauna or an ultra-modern electric heater for an indoor sauna, we can help you find the right heater to suit your needs. You can easily customize all our sauna material kits to feature the sauna heater of your choice and any accessories you may need. With little to no building experience, our detailed kits can help you build your new sauna in as little as one day.
To get started customizing your new home sauna, contact SaunaFin today at 905-738-4017.