Mistakes to Avoid When Installing Your Sauna
You are excited and looking forward to installing your new sauna and are preparing your home. You are looking at sauna kits and sauna heaters and envisioning your new lifestyle with your home sauna. While this is all fun and exciting, there are some mistakes to avoid to ensure the installation of your sauna is a positive experience all around. SaunaFin are leaders in the sauna industry, providing exceptional customer care and support, and will help ensure your sauna journey is wonderful.
Read on to learn more about mistakes to avoid when installing your sauna.
Appropriate Pre-Planning For Your New Sauna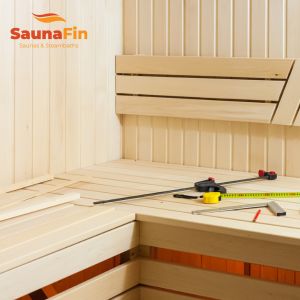 Making sure you are creating enough space to properly install your new sauna. You need to ensure enough space for people to sit and recline comfortably. You should have 6ft or more for bench space so you can comfortably sit or recline.
Choosing a good place in your home to place the sauna is also an integral planning step. Placing a sauna near a shower is a good idea, so once you emerge from a sauna full of sweat, you can immediately jump into a shower. If you have a large enough bathroom or master bathroom, you can place the sauna inside.
You can also install your sauna kit in the basement, so it is in a peaceful location away from the hustle and bustle of the rest of the house. Ideally, if the basement has a washroom with a shower, the sauna being placed nearby would be great.
You can literally install a sauna anywhere in the house, but making sure it's in a peaceful location and near a shower are good places to start thinking about. If your home has a beautiful view of the water or a ravine, you can consider placing a sauna to strategically catch the view.
The last thing you want to do is place your sauna in a busy area where you can hear the television and disturb your tranquil and peaceful sauna experience.
Tips to Make Sure Your Sauna Installation is a Success
To ensure your sauna experience goes smoothly, consider a few details first. First, ensuring you have proper ventilation for your new sauna and sauna heater is ideal. This will help keep your sauna heater in top condition for the long term.
You should consider what would make your sauna the ultimate oasis of relaxation, so consider lighting options that make you feel comfortable and help you destress.
There are a variety of accessories to outfit your sauna with; contact the team at SaunaFin to learn more about all of the ways you can take advantage of your sauna.
SaunaFin For Your Home Sauna
SaunaFin has been a trusted source for saunas for over 60 years. Our customers have relied on our top-quality products for 6 decades. We offer steam baths, sauna kits, a wide range of outdoor saunas and sauna accessories. If you want to learn more information about sauna kits and sauna installation, don't hesitate to contact one of your friendly and knowledgeable experts today.