Must-Have Features You Should Consider Before Purchasing a Sauna
Posted on 29 September 2022
Before purchasing a sauna, there are a few things that you should consider prior to making the big decision. Sauna kits in Canada are quick and easy to install, and they have many additional features to make your new sauna your sanctuary. At SaunaFin, we offer various saunas and accessories, including different sizes, essential oils, heaters, and miscellaneous items. After many years in the sauna industry, we understand that making a decision can be challenging, which is why we're here to help you find the perfect sauna.
Read on to know the must-have features you should consider before purchasing a sauna.
Benefits of Saunas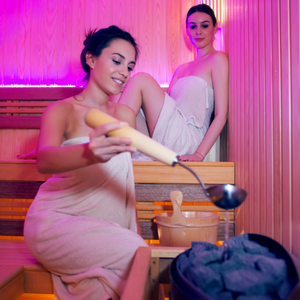 Using a sauna has many mental and physical health benefits, and having the accessories to help you enjoy it allows you to reach your fullest potential. Steam therapy can provide immense wellness benefits that leave you more than satisfied with your purchase. Not to mention, by using your sauna, you release endorphins and decrease cortisol levels. Endorphins are known as the "feel-good chemicals," whereas cortisol is released in response to stress. Depending on your wants and needs, there are saunas and accessories at SaunaFin that can take your relaxation to the next level.
The Size of the Sauna
One of the must-have sauna features you should consider before purchasing a sauna is the size you'll need. If you're planning to relax with friends and family, you'll want to ensure there's enough room to sit comfortably, whereas if you're planning on using it alone, you can opt for a smaller size for better results. In addition, regardless if you purchase an indoor or outdoor sauna, it's crucial to measure the area to be sure it fits properly. At SaunaFin, we offer various sizes and styles of sauna kits in Canada that you can customize.
Heaters
The type of heater you purchase for your sauna can make or break your experience. With high-quality, premium heaters from SaunaFin, you can enjoy therapeutic sensations like never before. Choose from the Tylo, SaunaCraft, Saaku, or Wood-Burning sauna heaters, each with different uses and benefits. Depending on your sauna goals and preferences, you can pick a heater tailored to you.
Buckets, Ladles & Thermometers
Along with your heater, you'll want accessories in your sauna for the best results. Having your own bucket, ladle, and thermometer for your sauna not only adds to the aesthetic and appearance of your sauna, but they're essential accessories that significantly enhance your sauna experience. At SaunaFin, we offer buckets and ladles in different sizes and colours, as well as four types of thermometers to choose from.
Luxury Saunas & Accessories
As the leading supplier and manufacturer of saunas and steam baths in North America, we know exactly what our customers need from a sauna to maximize the benefits. At SaunaFin, we provide our customers with the highest-quality and most luxurious saunas so that they can have the best experience possible. If you're ready to enjoy the benefits of steam therapy, reach out to the experts at SaunaFin to help you decide on must-have features for your sauna.