Thinking About a Sauna Kit in Toronto? See What 's Included
Posted on 30 November 2017
If you're thinking about building a personal sauna kit in Toronto, the experts at Saunafin can provide everything you'll need - the building materials, the mechanical components, and even the accessories. With many years of industry experience, Saunafin can advise on the right type of sauna kit to purchase, and the best way to proceed with planning and building the structure. Homeowners shopping for a sauna kit in Toronto can rely on Saunafin for a sauna inventory that is hard to match. Saunafin carries everything from pre-fabricated kits; material kits; steam generators; and even infrared saunas. Best of all, everything is under one roof with Saunafin.
What's included in a typical sauna kit?
Saunafin kits offer complete design flexibility. The idea is to provide a quality "base package" that allows homeowners to customize the sauna to fit physical requirements and personal needs. For homeowners who prefer to design and build their own sauna kit in Toronto, Saunafin can offer a host of shapes and sizes, and some distinctive features that rise above the competition.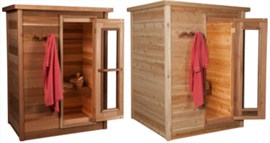 Sauna Heaters are available in a wide variety of sizes and models – from brands like Sauna Craft and Tylö.
Sauna Doors are all pre-hung for easy installation, and come with tempered safety glass for the windows. Customers can choose from either Single Pane Glass or Thermopane Insulated Glass.
Sauna Benches, are available in various sizes and all are available in clear cedar.
What's comes in the kit from Saunafin?
Sauna Lining - tongue and groove install - clear Western red cedar - finished both sides
PRIME lining is thicker than average and finished on two sides for the best overall finish
PLUS lining is the thickest tongue and groove cedar available, making for a premium kit
Vapour Barrier – a kraft-backed foil barrier that keeps insulation dry and adds insulation
Sauna Benches - now offered in two different sizes for great building design and flexibility
Choose from "L" bench design or two-tier "L" bench design (all benches are of clear cedar)
Sauna Doors - standard doors are pre-hung - 2x4 cedar frame - 16x64 tempered window
PRIME option comes with the single pane glass – PLUS option comes with Thermopane
Sauna Heaters - a prime consideration for those who want to assemble a sauna kit in Toronto
PRIME heater can be either wall-mounted or corner-mounted (with stainless steel shell)
PLUS heater is 100% stainless steel – with lifetime residential warranty (wall or corner)
Sauna Controls – some models with built in controls, some with electronic controls
PRIME controls come complete with thermostat and 60 minute timer (mounted outside sauna)
PLUS controls are available in a choice of either electronic controls or mechanical controls
Homeowners shopping for a quality sauna kit in Toronto can depend on Saunafin for the most complete kits on the market. The light fixtures are vapour proof. Heater guards are substantial. Corner moldings are provided for walls and ceiling (as well as casing for the door). And flooring options are available based on personal choice. Finally, the accessories are endless: headrests, towel racks, light shades, and scented essences (some accessories standard with the PLUS Kit).
What kit components are leftover to supply yourself?
When purchasing a Saunafin kit, there's not much left to do other than assemble and enjoy the sauna. Homeowners supply the framing (recommended 2x4 spruce studs), the insulation (recommended R-12 fiberglass) and the exterior finish (options for drywall or paneling) … that's it! We supply the rest!
Proper electrical wiring for the sauna kit
Whatever sauna kit you decide to buy, you must always make sure the electrical wiring is installed by a qualified, licensed electrician. This is particularly relevant with a sauna because it's a unique environment where water and electricity are in very close proximity. Pre-planning construction and electrical work for your sauna kit is a great idea, and will help avoid mistakes and mishaps from occurring. Controls and thermostat devices should also be installed with care and attention, and always with reference to the product instruction manual. In fact, heater controls and sensing bulbs require very specific installation in order to perform properly. This is not the right time for shortcuts, and electrical wire drawings should be followed (hence the need for a professional).
Proper installation of the control box
Installing a personal sauna kit in Toronto often requires the attention of a professional, especially with respect to electronics. With sauna heaters, some are supplied with built-in controls and some are supplied with outside controls (wall-mounted). Models with outside controls, for example, come in a pre-finished box (others come with a faceplate). At Saunafin, sauna controls are supplied with everything included. This may not be the same with other competitors, so it's important to know about this in advance. Saunafin goes the extra distance to supply customers with everything they need. As well, the experts at Saunafin will offer valuable tips on how best to install various sauna components.
Building tips for assembling a personal sauna
For homeowners who will be designing, assembling, and building their own sauna kit in Toronto, Saunafin has some straightforward tips in order to make the process positive and stress-free.
Framing
Use construction grade spruce to frame walls and ceiling. In some sauna sizes, walls are framed vertically and lined horizontally. Make sure to provide extra blocking for heater and bench supports.
Wiring
A professional should complete the electrical installation. Attention should be paid to the heater specifications and wiring diagrams. Heater and light can be installed when the sauna is complete.
Insulation
For optimal sauna performance and energy efficiency, proper insulation is highly recommended. The space between wall studs and ceiling should be filled with fiberglass insulation (R-Value of 12).
Sauna Lining
Use the specified tongue and groove cedar (may need to trim). Blind nailing is done through the tongue portion only (nails supplied). Install the ceiling first. Continue with walls (from the floor).
Fasteners
All fasteners are supplied with the sauna kit, including galvanized nails and specially treated screws. All fastening should be "blind nailed" so that no fasteners are protruding or visible.
Benches
Clear cedar boards are supplied for benches (may need to trim). No screws should be visible on the finished surface (nails and screws supplied). Bench depth and spacing varies with sauna size.
Door
Choose from cedar-framed full-length glass or solid cedar door with window. Doors are pre-hung in mahogany jamb. Remember that all doors should be installed so that they open outwards.
Heater
Depending on the heater, and the layout of the sauna, there's an option of mounting in the corner or right on a straight wall. Some sauna heaters are designed for wall mounting only (Tylö).
Cedar Floor
Use supplied cedar (with square edge over cedar sleepers). Just like the benches, the "good face" of the cedar should be on the walking surface. The top boards should be spaced about ½ " apart. Saunafin material kits come with a full instruction manual, including detailed drawings that facilitate installation. For long term performance and problem free operation it's best to install as per instructions, without taking unnecessary assembly shortcuts. Homeowners who have opted to build their sauna kit in Toronto can be self-assured of the quality and service from Saunafin.