The Must-Have Home Sauna Accessories
Posted on 13 September 2021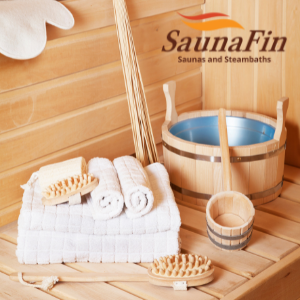 If you have recently purchased a home sauna from SaunaFin and are looking to improve your sauna experience, then you have come to the right place. As home saunas become more popular, SaunaFin is working hard to create more sauna kits in Canada so you can better customize your experience. A sauna kit in Canada is a blissful addition to any Canadian home, especially during harsh winters. Check out the must-have accessories to add to your home sauna kit to elevate your experience.
If you have any questions, please do not hesitate to reach out to our experts at SaunaFin. Our team is equipped with the knowledge you need to start your oasis.
Sauna Thermometer
A sauna thermometer comes in handy when you want to ensure your sauna does not get too hot or stay under the desired temperature for too long. Don't just purchase any thermometer; make sure it is a sauna-appropriate thermometer to withstand the heat. Knowing the temperature of your sauna is essential. Still, the addition of a hygrometer is neat-- it will measure the humidity and vapour.
Sauna Rocks
It's important to consider what kind of rocks you will use in your sauna. Choose a high-quality stone with an aesthetic that appeals to you. Nice sauna rocks can create a relaxing environment and maintain heat properly.
Essential Oils
Essential oils promote well-being and health. Certain smells are relaxing, others are refreshing, and all of them are delightful. Feel free to bring an oil diffuser into your sauna for an elevated experience. You can also spray the rocks directly with essential oils or add a few drops to the water you plan to pour over your rocks. Eucalyptus is a common and popular scent because it's both relaxing and relieving stress and fatigue.
Sauna Brushes, Scrubbers, and Whisks
One of the many benefits of regular sauna use is maintaining and improving skin health and circulation. A sauna whisk or brush can help further promote skin health. A sauna brush on wet skin will stimulate oil-producing glands, remove dead skin, and open pores. Brushing or whisking can make your skin appear brighter and remove dry or dull spots. Brushes are excellent at stimulating the lymphatic system. At the same time, the more traditional whisk will refresh and cleanse the skin and leave a pleasant and authentic Finnish aroma in your sauna.
Who doesn't want to elevate their sauna experience? If you have a sauna or are in the market for a sauna, why not go all the way and deck it out with the finest accessories? You will use your sauna regularly, so ensure it is appealing to you in all sensory ways. Sauna thermometers and hygrometers, sauna rocks, essential oils, brushes and scrubbers are all ways to ensure that you get the most from your at-home sauna experiences. If you already have a home sauna and are interested in taking your sessions to the next level, please call our team at SaunaFin. If you are considering buying a sauna and don't know where to begin, reach out to SaunaFin for help today. You can be on your journey to health and wellness today.