Outdoor Saunas: Tips for Proper Care and Maintenance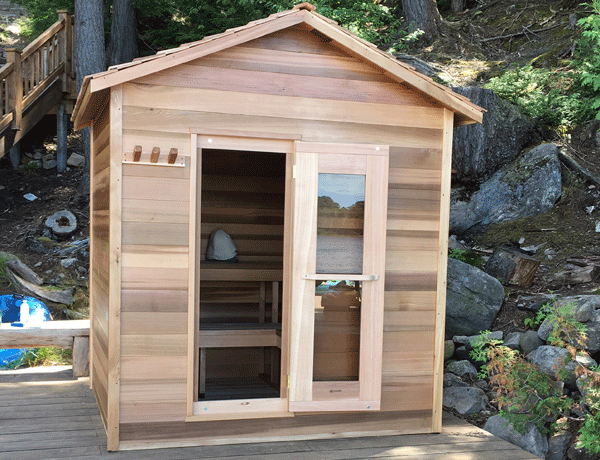 An outdoor sauna is a fantastic addition to any home or cottage backyard. Whether your sauna is pool or lakeside, you will be able to escape to your personal oasis in order to relax and unwind from the comfort of your home. Compared to indoor saunas, outdoor saunas require specific care and maintenance as they are exposed to the elements and the constantly changing environment of Canadian and American seasons. Wind, rain, snow, and other elements can all affect the exterior of your outdoor sauna and many people do not realize proper ventilation of the sauna is equally important for indoor and outdoor models. In this blog post, we will discuss some of our most important tips for maintaining your outdoor sauna. With careful attention to care, your sauna will be able to continue to function like it is brand new for years to come.
Before Use Care
One of the best ways to take care of your outdoor sauna is to take a few easy steps before use. To avoid the build-up of dirt and sweat and reduce the likelihood of introducing mold, we recommend all sauna users wash or rinse their feet before using an outdoor sauna. This can easily be accomplished with an outdoor tap or bucket to help remind users to rinse their feet of any dirt or grime. This can help the wooden floors and benches stay dirt-free and reduce the frequency with which you need to clean the sauna. Additionally, you could require sauna users to take a quick shower before using the sauna. If you have an outdoor shower, this is a great step to reduce the build-up of dirt, sweat and grime on floors and benches.
Wood Maintenance
Saunas are built-to-last with beautiful wooden benches, floors, and walls. To protect your wood and reduce the build-up of mold and grime, there are several important steps for maintaining your wood. Many sauna owners want to use a sealant to reduce moisture build-up on frequently touched surfaces such as the benches and floors. However, due to the high heat of a sauna, regular sealants, paint, and protectants cannot be used. Specific sauna-approved sealants can be purchased for use to help protect your wood. Other sauna owners instead choose to leave the wood "natural." For hundreds of years saunas have been used without sealants, allowing the wood to remain pleasantly warm and naturally absorbent to heat. With a "natural" sauna, you can still restore the look of faded or worn wood by simply sanding the high-contact surfaces and then vacuuming and wiping them down afterwards.
Heater Maintenance
The good news is that most sauna heaters require very little maintenance. The stainless-steel outer shell of a heater can be occasionally cleaned with a non-abrasive detergent. Heater rocks usually last between 6-10 years but can last upwards of 15 years with appropriate care and maintenance.
Regular Sauna Room Care
Inside your sauna, there are important steps to take after every use (covered in 'After Use Care' below). In addition, the sauna room, especially the floor, can be cleaned a few times of a year with a mild detergent and water to remove build-up of dirt and sweat. Occasional cleaning of the sauna can also reduce the build-up of mold or other environmental contaminants.
Door and Vent Maintenance
Any moving parts of your sauna should be regularly inspected to ensure they are operating smoothly. This includes any doors or vents that may require screw replacements, sanding, or other repairs to allow them to open and close without any resistance.
Accessory Maintenance
Most saunas utilize a wooden bucket of water to help make is easy to wipe benches after use. To protect the longevity of the wooden bucket it should always be partially filled with water to prevent drying of the wood. If you use a metal bucket, it is important to keep it on the floor as it will get hotter to the touch if it is placed on higher benches.
Outer Maintenance
The outside of your outdoor sauna will be exposed to many different elements over the course of its lifetime: wind, rain, snow, hail, sunshine, etc. It is important to keep an eye on the outside of your sauna to ensure the walls and roof are in good shape and don't require any repairs. Overtime, you may notice exterior damages that require minor repairs to ensure the sauna is still protected from the elements.
After Use Care
After using your sauna, it is important for the final sauna-user to take a few minutes to scrub the benches and backrests with water and a wooden brush. This simple and quick task can help reduce the build-up of sweat and dirt on benches and backrests. Over time, this will keep your wood healthy and looking fresh. When you are finished, leave the sauna door open to allow air to circulate and benches and walls to dry.
Regular care and maintenance of your outdoor sauna can help increase its longevity and reduce the likelihood of expensive repairs and replacements. The simple tips outlined above can ensure your sauna continues to operate for years to come. In this way, you will be able to enjoy the benefits of regular sauna use without the hassle of expensive repairs or replacement parts. At Saunafin, we provide PreFab Sauna Kits and Sauna Material Kits to make it easier than ever to build an at-home sauna. Whether you are a first-time sauna owner or are experienced with home sauna construction, our kits make it easy to build the sauna of your dreams. We provide all the materials necessary to build either indoor or outdoor saunas and provide continued service to ensure you sauna runs smoothly for years. You may also be interested in upgrading certain components of an existing sauna, such as the heater or roof. No matter what the task, the SaunaFin team is here to help. For more information on any of our products of services, contact us today at 905-738-4017.