Choosing Between Indoor & Outdoor Pure Cube Sauna
When you finally make the decision to shop for your own personal home sauna, it's normal to be excited. You no longer have to share a tight space with strangers at the gym or local spa to get the luxuries of steam therapy. However, when you start to explore the saunas available on the market, you will likely find yourself deciding between one critical choice - an Indoor Pure Cube sauna or an Outdoor Pure Cube sauna. At SaunaFin, you can get either of the two beautiful options; choosing which one depends on you.
Here are some tips to help you choose the perfect sauna for you and your home.
Your Space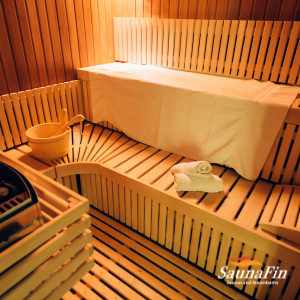 The space available to you is one of the most apparent indicators of where you should purchase an outdoor or Indoor Pure Cube sauna. Assess the amount of room you have inside your house where you would like to install an indoor sauna ideally. If there's not enough clearance around the sauna or if your home starts to feel too crowded, then an Outdoor Pure Cube sauna is probably a better fit for your property.
The same goes for your backyard. Much of the outdoor space in big cities in North America is especially small or narrow, so installing an Outdoor Pure Cube sauna in Toronto, New York, or Montreal may take up a more significant portion of your yard space than you expect. The best sauna choice is one that accommodates your area comfortably.
Neighbours & Privacy
It's no surprise that some people prefer to use their sauna with no clothes on, and if that's you, then you should consider whether installing a sauna outdoors will grant you the privacy you're looking for. Both the Indoor Pure Cube sauna and the outdoor sauna come with glass windows and doors. An indoor sauna installation might be optimal if you have low fences or many houses in the neighbourhood facing your yard. If you're a stickler for the great outdoors, you can opt for optional privacy panels that will make enjoying your home sauna outside more comfortable.
Your Home Decor & Your View
One of the great design features of the Pure Cube sauna from SaunaFin is its ability to accentuate the area around it. The modern sauna design is geometric with glass walls and doors. If your home or cottage has a beautiful view of hills, golf courses, lakes, or even mountains, installing your Pure Cube sauna outdoors will help you feel more connected to nature.
Suppose you've bought a new home or have recently renovated your home to promote a more modern design focused on straight lines and open concepts. In that case, you will find that the Indoor Pure Cube sauna meshes very well, bringing out subtle design elements. You can install your home sauna in the basement or a primary bathroom for accessibility and aesthetics.
About the Pure Cube Sauna
The Pure Cube Sauna, for both outdoor and indoor installations, is modern and beautiful, offering a high-quality steam therapy experience. You can shop your favourite prefab saunas online with SaunaFin or call us with any of your sauna-related questions.
Contact SaunaFin Today.