Discover The Different Types Of Saunas
A personal home sauna offers the ultimate spa experience in the comfort of your home.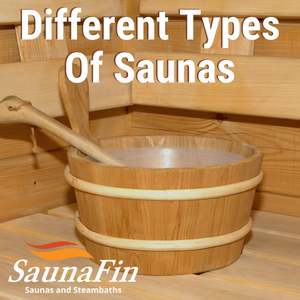 There's a mind-boggling variety of home saunas to choose from, thanks to the various sauna kits in Canada that can be custom-created. Some people might prefer the privacy of an indoor sauna, while others might prefer an outdoor barrel sauna in Canada. There are also different types of sauna heaters and various materials for the sauna. At SaunaFin, we specialize in factory direct sales of high-quality indoor and outdoor saunas, sauna heaters, steam shower generators, accessories, and sauna material kits in Canada. If you're interested in learning more about the different types of home saunas, including barrel saunas and cabin saunas, be sure to check out our blog!
Different Styles Of Home Saunas
Saunas can be categorized into three different types based on the heating source:
Wood-Burning Sauna: A wood-burning stove sauna is the traditional 'Finnish' sauna, a dry sauna with low humidity. It uses wood fire to heat sauna stones that heat up the entire sauna. Steam can be created by pouring small amounts of water over the rocks with the help of a wooden ladle and bucket. Wood-burning saunas promise an authentic sauna atmosphere and are ideal for the outdoors.
Electrically Heated Saunas: The most popular variety of saunas, electric saunas use electric heaters to crank up the heat. They still provide the classic sauna experience, as you can opt for a dry or wet sauna experience. These saunas are best suited for urban areas and can be easily installed indoors or outside. These saunas come with various sophisticated controls that can even be controlled remotely through a smartphone app!
Infrared Saunas: New-age infrared saunas directly heat the body through infrared therapy. Sauna purists disapprove of infrared saunas as they do not heat up like regular saunas. However, they offer similar benefits as the heat targets the body, though the sauna experience is quite different from regular ones.
Going by design and style, saunas can be categorized into:
Barrel Saunas
These saunas are the most popular outdoor saunas with their signature cylindrical design. The circular shape ensures efficient utilization of convection and heat—the even distribution of heat ensures that a barrel sauna in Canada heats up quickly. Their ideal design requires little maintenance, and the rounded contours ensure they can handle heavy snow loads. Everyone loves barrel saunas for their low cost, easy installation, and minimal materials.
The Panoramic View Barrel Sauna from SaunaFin is a full-size barrel sauna with a gorgeous acrylic bubble back wall. This one-of-a-kind sauna promises all the benefits of a barrel sauna in Canada, with spectacular landscape views through its unique acrylic back. Made of sturdy red western cedar, the panoramic view barrel comes with an optional change room and porch.
Cabin Saunas
Pre-fab cabin saunas are a perfect choice for homeowners who aspire for a beautiful sauna without the hassle of a major renovation. These pre-fab saunas can be assembled quickly and combined with an electric, infra-red, or wood-burning sauna heater. Customize with different designs, styling, and accessories to create your personal sauna haven. Here are some captivating yet practical cabin sauna designs from SaunaFIn.
Red Cedar Indoor Cabin Sauna
Indulge your senses and escape the daily grind with our impeccable indoor saunas that are specially designed for your home or cottage. The aromatic and red cedar wood comes with a solid log construction for a distinctive clear cedar look. The solid construction and unique dovetail notching system ensure that our saunas will last for decades.
The Outdoor Cabin Sauna
This traditional square box sauna provides stratified heating with two-level benches. The peaked roof has cedar shingles with an entire western red cedar base.
Outdoor Pure Vision Cabin Sauna
De-stress and rejuvenate in calming environs of your backyard or garden in our stunning Pure Vision cabin sauna. This elegant modular sauna with its full glass wall and frameless glass door let you enjoy the beautiful outdoor landscape while relaxing in your personal sauna oasis. The cabin is constructed with gorgeous clear western red cedar—its unique aroma gives the authentic woodsy feel.
The Luna Sauna
This exquisite sauna combines sleek modern contours with the natural beauty of Canadian red cedar wood. The dazzling full glass front wall adds aesthetic appeal while providing a breathtaking view of the landscape or backyard garden. Spacious and soothing, the Luna sauna comes with the promise of durability and the beautiful aroma of western red cedar.
Now that you have all the info on the different styles and types of saunas, connect with the experts at SaunaFin to choose your dream sauna! Enhance your everyday life and well-being with impactful wellness spaces by contacting SaunaFin today!