Guide to All the Top Indoor Cabin Sauna Features
Saunas are revered for their myriad therapeutic benefits and stress-relieving properties. And with the advent of indoor home saunas has made the luxury of a personal relaxation retreat accessible to all. SaunaFin proudly offers a diverse range of gorgeous outdoor and indoor saunas for your unique lifestyle needs. Join us in exploring the most desirable features of our exclusive indoor cabin saunas to unwind, heal, and soothe your body & soul within the comfort of your home.
The Convenience of Pre-Fab Saunas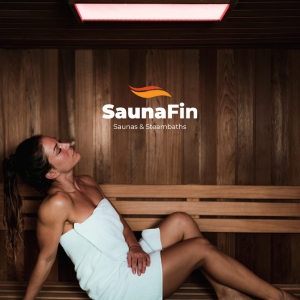 Embracing the sauna experience in your home is a breeze with SaunaFin's pre-fab home sauna range. Crafted with precision and care, our pre-fab saunas are ready-made, self-contained units that can be placed anywhere in your home. Whether you have a spare room or a cozy corner, SaunaFin's pre-fab indoor cabin saunas can seamlessly fit into your living space without extensive remodeling. The solid log construction and unique dovetail notching ensure a stunning clear cedar appearance. Our pre-fabricated saunas come with convenient pre-cut panels for quick & easy assembly and installation. Save time, money, and effort without compromising aesthetics when choosing SaunaFin's pre-fab sauna range!
Luxurious Designer Doors
The entrance to your indoor sauna haven should be as inviting as the experience itself. Designer doors crafted with elegant materials like tempered glass and rich woods offer a glimpse into the personal oasis of warmth and relaxation that awaits you. These designer doors can add a touch of sophistication to your home sauna and create an open and inviting atmosphere, promoting a sense of calm even before you step inside. SaunaFin's collection of premium designer doors is a perfect blend of aesthetics and functionality–stunning glass facades provide a luxurious feel while ensuring heat retention for an optimal sauna experience.
Cedar Floors for a Rejuvenating Natural Feel
Flooring choices can make or mar your indoor cabin sauna's aesthetics and comfort. Premium softwood alternatives include cedarwood, eucalyptus, and basswood. Cedarwood is the ideal choice for saunas owing to its durability and soothing natural aroma. It offers decay & moisture resistance and provides a warm, woody surface underfoot to enhance the pleasure of your sauna sessions. SaunaFin's earthy cedar floors bring the beauty of the outdoors into the indoor cabin sauna, immersing you in a holistic sauna experience. Choose from the rich red cedarwood hues or the crisp eastern white cedar to add a calming natural dimension to your home sauna sessions.
Saaku Sauna CP Model Heater
All our indoor cabin saunas come with standard sturdy Saaku Sauna CP Model heaters. These heating workhorses allow you to blend traditional sauna practices with the power of modern technology. The advanced control panel allows you to customize your sauna experience, adjusting temperature, humidity, and lighting to suit your preferences. Create the perfect environment for relaxation, meditation, or a social sauna gathering with your Saaku Sauna CP Model heater.
Other Indoor Home Sauna Options
At SaunaFin, we understand that individual preferences are unique and varied. That's why we've designed a full range of indoor home sauna options to cater to diverse tastes and needs. From compact solo saunas to spacious multi-person pre-fab cabins and the bespoke Pure Vision sauna, find the perfect match for your home in our indoor sauna collection. Choose from the stunning full-glass front Pure Vision sauna, the convenient and classy pre-fab saunas, or craft a personalized sauna with our versatile sauna kits! All our indoor saunas are thoughtfully designed to blend seamlessly with your interiors, reflecting your taste while providing a private haven of tranquility.
Incorporate a SaunaFin indoor cabin sauna into your home for a serene haven of wellness & relaxation that fits perfectly into your lifestyle. Don't wait for a day at the spa–embrace the rejuvenating home sauna lifestyle with SaunaFin! Your path to tranquil relaxation awaits.