What Size Heater Do I Need For My Sauna?
Posted on 09 November 2020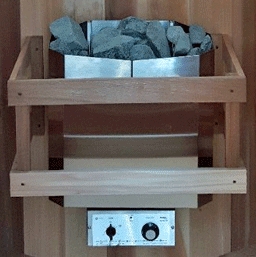 One of the main benefits of a home sauna is the ability to completely customize the design to meet your personal needs. You can choose the size of the sauna, its finish and location, accessories, lighting options, and the type of heater. Whether you are interested in small cabin saunas or a large barrel sauna, the type of heater you choose will affect your overall sauna experience. When it comes to heating your sauna, there are lots of available heater options. With the variety of sauna heaters, it can be tough to know where to begin. Here we have created a simple guide to help you choose the right size heater for your home sauna.
Consider the Size of Your Sauna
The size of your heater will vary depending on the size and model of your home sauna. A large sauna will therefore require a bigger heater than smaller models. Most home saunas are available in a range of sizes, so it is important to consider your sauna size before deciding on your final heater model.
Tylo Sense Sauna Heaters
Tylo Sense sauna heaters were designed and built in Sweden. These heaters are thought of with sauna users in mind to create a one-of-a-kind final product. The Tylo Heaters are designed to maximize safety and are never hot to the touch. These heaters also use a smart heating process to minimize operating costs by using all heating elements at the beginning of the sauna session to quickly heat the space before cycling between fewer heating elements for heat maintenance. The Tylo Sense Sport is a good entry-level sauna heater for smaller saunas, whereas the Tylo Sense Plus includes external controls and more heating power for larger saunas.
Sauna Craft Heaters
Sauna Craft heaters are made in Canada and are a cost-effective option for anyone looking to minimize their heater cost. Four available sizes range from wall-mounted to floor standing models to heat both small and large saunas.
Wood Burning Heaters
Wood burning sauna heaters are available both with and without protective firebrick and are made in Canada. Wood burning models are a great option for anyone looking for an authentic sauna experience and the comforting smell of a wood-burning stove. Many cabin saunas with wood-burning heaters also do not require electricians for installation as the heater operates without electricity. Some of the models also include a water tank to generate steam inside the sauna.
At SaunaFin, we sell a range of sauna heaters including Sauna Craft, Tylo Sense, and Wood Burning models. Our prefabricated sauna kits and sauna material kits allow you to easily build cabin saunas, barrel saunas, and more in the backyard of your home or cottage. Depending on the size of the sauna you choose to build, you can customize your sauna heater to appropriately heat the interior of your new sauna. For more information on any of SaunaFin's at-home sauna models or sauna heaters, contact our team today at 905-738-4017.