5 Reasons to Use A Home Sauna This Winter
Posted on 25 October 2021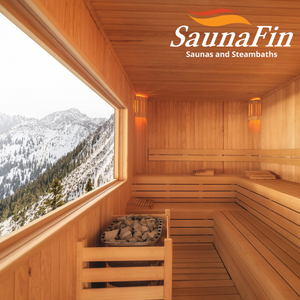 Winter brings with it the promise of holidays, shopping, and Christmas cheer. Unfortunately, it also brings ice-cold temperatures, aches, and pains. While the warmth of a cozy blanket and delicious hot chocolate makes up for the biting cold, adding the blissful comfort of a home sauna can make a world of difference! Traditionally, saunas have been used to enhance immunity and wellbeing in Scandinavian countries. Now you can enjoy all the health benefits of an authentic barrel sauna in Canada with SaunaFin! Here's why home saunas need to be on your must-have list this winter!
1. Boost Your Mood
The lack of sunshine and dreary cold weather can have a damping effect on our mood. Saunas can help keep the blues at bay with their immunity and mood-boosting benefits. The incredible warmth of a home sauna not only warms and relaxes our body but is also associated with endorphin release. These "feel good" chemicals act as natural mood boosters to lift our spirits and keep going in the long winter months.
2. Rest & Relaxation
A long winter day can make the best of us stressed and tired. From getting out of bed to going to work, everything can be a struggle in the chilly winter season. The warmth of a sauna can help you unwind and relax after a long winter day. Just a few minutes in the sauna can unknot all your muscle kinks and fill you up with zestful energy. Slipping into the toasty warmth of a barrel sauna in your Canada home can make you forget the winter woes and say hello to some serious R & R!
3. Boost Your Health
Regular sauna use in winter can bring a host of health benefits. It helps reduce inflammation, boosts the cardiovascular system, and also keeps the colds away! In fact, scientists and doctors agree that regular sauna usage in winter can reduce the occurrence of cold and seasonal flu. The steam and heat from the sauna can also ease sinus congestion and help detox the body. The high temperature dilates the blood vessels, thus increasing the blood flow and enhancing the cardiovascular system.
4. Skin Win
Winter also spells disaster for the skin—dryness, flaky skin, chapped lips, and windburn. Here's where a home sauna can save the day! The heat and steam of the sauna open up the skin pores and helps flush out toxins through sweating. Pore dilation and increased blood flow increase elastin and collagen production, leading to smoother and firmer skin. Sweating also increases the skin-cell turnover rate that gives fresher-looking skin and a dewy post-sauna glow!
5. Deeper Sleep
A sauna bath can also help you sleep better as it enables you to relax and de-stress. An afternoon or evening sauna session raises the body temperature and then lowers it naturally, inducing deep and relaxing sleep. The release of endorphins also facilitates restorative sleep and a sense of wellbeing. In all, the home sauna can be your personal wellness pod providing a dash of health and warmth in the cold winter months!
Health, happiness, and hygge are yours with a home sauna from SaunaFin. Crafting saunas in the authentic Finnish tradition for more than 60 years, we at SaunaFin are committed to quality and customer satisfaction. Whether you are looking for an ultra-modern luna sauna or the traditional barrel sauna in Canada, SaunaFin has the sauna you need! Contact team SaunaFin to add a touch of perfection to your home with our customized sauna solutions!