Choose the Best Lighting Options for Your Home Sauna
Posted on 27 October 2022
Illuminating your home sauna can make all the difference in your sauna experience. With various lighting options, colours, and designs for your barrel sauna in Canada, you can curate the lighting and mood exactly how you want. Warm and inviting lighting can create the perfect ambience to elevate your spirits. Choose from simple marine and optical lights, LED lighting strips, and more!
Continue reading for the best lighting options from SaunaFin.
Traditional Vapour-Proof Marine Lights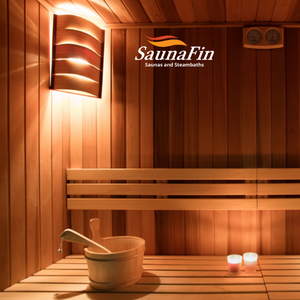 Safety of operation should be a prerequisite when choosing lighting options. Vapour-proof marine lights are sealed to protect the light from heat and moisture. These traditional lights add old-world charm and can be mounted on the wall or ceiling. Avoid placing ceiling mount lights directly over the heater or the bench seating area when installing them.
Recessed Lights
Recessed lights are usually recommended for keeping the low sauna height in mind and are ideal for your barrel sauna in Canada. These lights are a safe option as they can withstand high temperatures and illuminate your home sauna through the walls & ceilings. They are typically moisture resistant with at least IPP56 security class. You can also play around with different coloured lights to create various moods and lighting effects.
LED Lighting Strips
LED lighting strips can transform your home sauna with creative design solutions and subtle lighting effects. You can use LED Mood lighting to create different moods and atmospheres. Whether you choose a soft pink, a bold green, or a cool blue, each colour offers a different relaxing ambience. They are the most reliable and safe lighting options for a sauna or steam room with exceptionally high temperatures. You can install the strips around the ceiling perimeter or illuminate individual benches or shelves. When installing, ensure that all the LED strip edges are well insulated. Do not use the standard LED strips that do not have moisture protection. SaunaFin's SaunaChrome™ White LED Strip Lighting or Harvia's special LED strips are durable and can endure high heat and offer high levels of moisture protection.
Exterior Weather Proof Light Switch
Weatherproof exterior lights are recommended for outdoor saunas, such as the barrel sauna in Canada. They are built to withstand the elements and come with weatherproof conduits and light switches.
Philips Wireless Dimming Kit
The Philips Hue dimming kit allows you to create the perfect ambience to suit your mood. It offers smooth wireless dimming—control the light with the wireless dimmer switch! You can seamlessly connect the Philips Hue bridge to any smart device.
The Philips Hue wireless dimming kit allows the following:
Installation-free dimming
Easy control
Remote control
Simultaneously manage up to 10 Lights
Entire operations from any smart device with the Hue bridge
Light Shades
Add the final touch of elegance and lighting with high-quality light shades from SaunaFin. Choose from the quaint picket-style diffuser light shade or a smoothly curved light shade for a calm and soothing ambience. The light can shine through the slats to create beautiful patterns on the wall. Remember, avoid intense lighting inside your sauna—subtle filtered lights offer a more relaxing and enjoyable sauna experience.
High-Quality Sauna Lighting Solutions from SaunaFin
The right lighting can help set the tone for your sauna spa session and enables you to make the most of your barrel sauna in Canada. Set the right ambience and aesthetics with the wide range of home sauna lighting solutions from SaunaFin.
Explore Your Home Sauna Options.