Find the Best Cottage Sauna
What is the North American cottage experience? The summer escape from the pull of everyday life, where people embrace the simpler things in life, whether that's individuality, nature, or time with the people who matter most, can also act as a snowy getaway in the winter. Investing in your cottage experience with your very own home sauna is a way to invest in yourself. The perfect sauna is genuinely an individual experience; with SaunaFin, it's your sauna your way. Choose from our selection of customizable sauna kits that can transform any space in your cottage. Or make use of your outdoor space and beautiful cottage views with traditional barrel saunas and cabin saunas.
Read on to explore the best sauna options for your cottage.
Determine Your Sauna Needs & Choose Your Sauna Type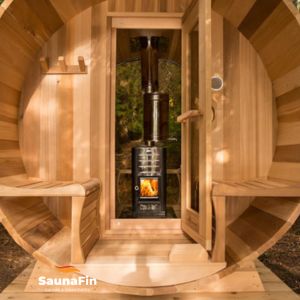 SaunaFin provides a plethora of options to choose from when looking for a sauna or steam therapy experience.
Infrared sauna: These saunas don't necessarily get hot, but it directly heats the body. Infrared saunas have panels on the wall that project the heat. We don't typically recommend infrared saunas, since the benefits, maintenance and comfort of traditional home saunas, far outweigh the infrared experience.
Steam baths: The main difference between saunas and steam baths is the heat it produces. Steam Baths produce moist heat that can help with congestion and skin moisture. These can be installed directly into your shower. At SaunaFin, we provide generators to add to your home shower to turn it into a relaxing sanctuary.
Traditional Saunas: At SaunaFin, we carry indoor and outdoor saunas, prefab and sauna kits. Sauna kits turn one of your rooms into a fully functioning sauna. Prefab saunas can be installed indoors or outdoors and come in various types.
Indoor vs Outdoor
Do you have a room in your home that you don't use, or do you think you can use it better? Turn it into a sauna with SaunaFin's large variety of indoor saunas. This makes your sauna accessible all year round, through any weather conditions. It is easy to install and doesn't require any new foundation. These saunas provide optimum privacy and the luxury of a personal sauna within your home.
An outdoor sauna is a great way to indulge in the outdoors while still enjoying your sauna, no matter the weather. You may have to walk through some weather conditions to get to your sauna in your backyard; it provides beautiful views. With an outdoor sauna, you can indulge in a more spacious sauna experience, sharing the space with friends or family. SaunaFin has a wide range of outdoor saunas to best fit your home.
Consider Your Other Cottage Features
If your cottage already has excellent features like a pool or hot tub that make it a relaxing sanctuary, finish it off with a sauna from SaunaFin. No need to go out for a spa day when you can have one right in your cottage. Embrace the tranquillity of your surroundings and escape the demands of everyday life this summer. SaunaFin has been bringing relaxation to our customers for over 60 years. Begin your sauna journey with us today by contacting us.