How Saunas Can Help After a Workout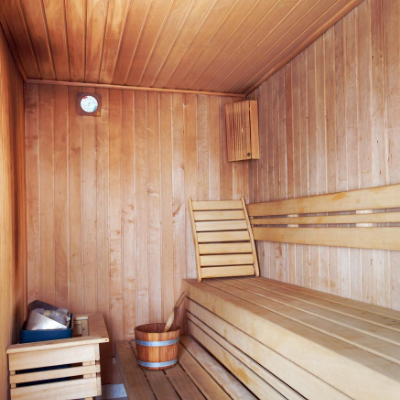 During the ongoing COVID-19 pandemic, many people had to find new and creative ways to workout from home. While before, workout classes, gyms and studios were the more common workout of choice along with being able to use amenities such as regular sauna use. But with the transition to home workouts, individuals are becoming more comfortable with exercising from home and may never go back to a regular gym. That's why the idea of repurposing their home gyms and maybe even installing a new at-home sauna is becoming a more sought after trend.
With a home sauna, you will be able to get all the benefits of regular sauna use from the comfort of your own home. Professional and amateur athletes alike know that regular sauna use can help improve your recovery from workouts and improve your overall mental and physical wellbeing. Home saunas and home sauna kits make it easier than ever to achieve all these benefits and more. Below we have outlined just a few of the many ways in which sauna use can improve your workout recovery.
Boost Your Mood
The warm and welcoming environment of a sauna helps your body recover quickly after a workout. A sauna session helps you feel refreshed and ready to tackle the rest of your day. Your at-home sauna will give you the perfect space to reconnect with your body, reflect on your workout, and take a moment to relax. Just like a workout, the heat from the sauna also helps release endorphins helping your body naturally feel great.
Relieve Pain
The high, dry, heat of a sauna helps rapidly increase your body's temperature. At elevated temperatures, your body increases blood flow helping keep the body cool. This increase in circulation helps bring extra blood to tired and sore muscles, allowing them to recover faster and reduce the pain and fatigue that is often experienced after a workout.
Improve Endurance
Many athletes find that incorporating sauna use into their workout routine actually helps to improve their overall fitness. The high temperatures and warm environment of the sauna naturally increase circulation and elevate the heart rate, increasing the length of your workout and improving endurance. An after-workout sauna session can help you to reach your athletic goals by lowering your resting heart rate and improving your ability to run, cycle, swim, etc. for longer! A great choice for marathon runners, triathletes and other endurance athletes looking to improve their overall fitness.
Burn More Calories
Inside of a sauna, the elevated temperatures make you sweat and increase your heart rate. These combined physiological responses result in an additional calorie burn increasing the effectiveness of your workout. By using a sauna after your workout to stretch, reflect, or reduce pain, you can also extend the calorie-burning of your exercise session. This can help you lose weight even while you are recovering from the active portion of your workout.
Help Flush Muscles
Many athletes appreciate their home sauna for its ability to naturally flush muscles of lactic acid following a workout. The increased circulation and blood flow induced by the heat of a sauna help flush lactic acid and other metabolic by-products from the muscles. This can help speed up the recovery process, reduce muscle pain and fatigue and allow you to return to workouts feeling stronger and more energized.
Reduce Stress
Stress and anxiety can affect every aspect of our lives. A sauna creates the perfect oasis to escape the hustle and bustle of everyday life. In your sauna, you can take a moment to pause and reflect, reconnect your mind and body and relieve stress through mindfulness. This is especially true for athletic stress. Are you worried about an upcoming race? Disappointed with a recent workout? Your sauna can help you to work through your feelings and take a moment to be kind to yourself. Use your sauna to create a space where you practice self-care and compassion. Let yourself reflect on your workouts, your personal and work life and use the space to set new athletic goals.
Improve Sleep
It is no secret that sleep is the key to success in any sport. With an at-home sauna, you can relax and unwind your body and mind, helping reduce stress, alleviate muscle pain and improve your sleep.
When using a sauna after a workout, it is important to remember to stay hydrated with water or a sports drink. The hot environment of a sauna can result in dehydration, so it is important to limit the amount of time you are in the sauna to 15-30 minutes and drink plenty of fluids. We also recommend taking a quick shower after your workout and before your sauna session to help reduce sweat stains on benches and backrests. Simply rinse off with a quick shower, wrap yourself in a cotton towel, grab your water bottle and enjoy the benefits from your after-workout sauna session.
Get Your At-Home Sauna Kit With Saunafin
At SaunaFin, we can help you create a home sauna easier than ever with our home sauna kits. Whether you are an experienced DIYer or are new to home renovations, our home sauna kits combine all the materials you need to build a custom at-home sauna. With a variety of sizes and designs, SaunaFin has an indoor or outdoor sauna to fit every home or budget. Choose from truly one-of-a-kind design like the Luna Sauna or a traditional Barrel Sauna. Build a new sauna in your backyard by the pool or lake or install the sauna directly into your home gym for easy access year-round. No matter what your preference, SaunaFin can help make your home sauna dreams come true.
For more information on any of our home sauna kits or to learn more about home saunas, contact the SaunaFin team today at 905-738-4017. All our home sauna kits are available for delivery and our showroom is now open by appointment only. Come see our home saunas for yourself and pick out the model you have been dreaming about!