How To Customize My Home Sauna
A home sauna can make your life all the better with health, wellness, and spa-like luxury in the comfort of your home. With countless customizable possibilities in our Dundalk saunas, you can have a sauna like no other! Select from different materials, sizing, lighting, Bluetooth, and wi-fi options. Whatever you choose to do, we're sure you'll love your sauna! The team at SaunaFin is proud to provide the highest-quality materials and customizations so you can make the most out of your sauna for years to come. Read on to learn more about customizing your home sauna.
Your Sauna, Your Choice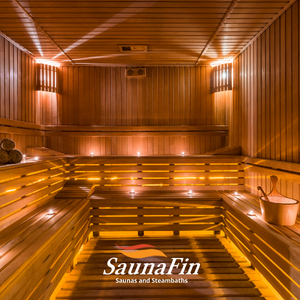 If you're investing in a home sauna, you'll want it exactly as you pictured it. You deserve a unique sauna that complements your tastes, lifestyle, and needs. Dundalk saunas from SaunaFin come in different sizes, with varying materials, heating, seating, lighting, and more. All these design elements should blend seamlessly into your home for a custom sauna that's truly you! Take time to explore various custom sauna portfolios to understand the varied options and designs available.
Location & Size
Your sauna should be customized to fit your needs and home exactly as you envisioned. A custom sauna can be placed just about anywhere - install it in the master bathroom or gym, take it outdoors or place it inside, have a built-in sauna or a self-contained unit, select a compact one or a spacious sauna sanctuary!
Outdoor saunas can be blended seamlessly by the pool or patio. The bespoke range of Dundalk saunas offers a stunning variety, letting you customize your sauna precisely the way you want.
A small, compact sauna will be a good option if you have limited space. However, if you have ample room, exploit the scenic views of your cottage, home, or backyard by choosing a larger sauna. A large sauna can accommodate more people at once - a great option if you wish to socialize or host a sauna party!
Select the Wood Type & Heat Source
The wood used in the sauna interior determines its aesthetics and comfort level. The main idea is to select the wood that does not warp or rot with heat and steam. Cedar is the most coveted choice for sauna interiors owing to its lovely aromatics and sturdiness. Spruce and hemlock are also decent options. While traditionalists prefer their Dundalk saunas in red cedar wood, Nordic white spruce adds class to modern sauna designs.
Choose the heat source to suit your preferences - electric or gas heaters, wood-burning stoves or infrared saunas. All heating systems come with their pros & cons, so read up and research to make an informed decision.
Choose the Bells & Whistles
A custom sauna is incomplete without the trimmings - led lights, wi-fi, music, seating, heat controls and more! Design your spa retreat by experimenting with internal lighting, chromatherapy, convertible benches, essential oils, back/headrests or custom doors. LED candles can create a tranquil & relaxing ambience, while piped music can be a treat for music lovers.
Bring Your Dream Sauna to Life with SaunaFin
A custom home sauna allows you to design and ideate that perfect sauna! Bring your dream sauna to life with SaunaFin—we've led the sauna space for over 60 years, creating bespoke saunas that complement your wellness journey. Our expert team manages the entire process with care and attention to every detail—from selecting the sauna model to closing the door on your custom sauna! Connect with us today for a custom sauna designed to your discerning taste & style!