The Best Places to Install Your Home Sauna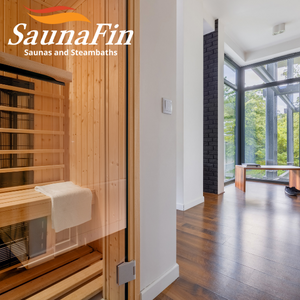 Do you love the relaxing, rejuvenating effects of a sauna? Done your research and explored the myriad models? Dreaming of buying your personalized home sauna but don't know where to install it? Don't worry; SaunaFin is here to help! Installing an indoor home sauna or an outdoor barrel sauna can be a great way to improve your overall health and wellness. Saunafin is one of the biggest sauna companies in Canada and North America, specializing in factory direct sales of high-quality indoor & outdoor saunas, sauna material kits, sauna heaters, sauna accessories, and steam bath generators. We've put together this handy guide to help you choose the best place to install your home sauna.
The Basics
A home sauna can be placed virtually anywhere in your home with adequate venting and power supply. Additionally, make sure the place is accessible and spacious with proximity to a bathroom or shower.
The Garage
The garage is amongst the best places to install your new SaunaFin home sauna. The ample space and privacy in the garage can serve as a cool-down area and changing room. Garages are also easy to ventilate, and there's no worry of ruining the flooring with heat or moisture.
The Bathroom
If you have a spacious bathroom, it can be the perfect place to install your home sauna as you already have a shower near your planned sauna. Zone off a dedicated area for the sauna and check for ease of electrical fittings & flooring.
The Basement
Put your empty basement to good use with a neat sauna tucked into a quiet corner. Away from the rigours of daily life, your basement sauna can be your private oasis for relaxation. Just make sure that there is appropriate flooring with good support, as a poor foundation may hamper the proper functioning of your sauna. Also, check that there is no moisture problem. You can also add walls or doors and additional soundproofing for enhanced privacy and tranquillity.
The Backyard
Transform your backyard into a personal haven of health and wellness with a classic barrel sauna. Apart from enjoying the therapeutic benefits of a sauna amongst the beauty of nature, an outdoor sauna can add drama and ambience to your space. A backyard sauna also gives you the luxury of space—you can choose a sauna for 3-4 people or more. Throw that sauna party for friends, or just have a cozy family get-together in your own backyard!
The Attic
While the attic may be the most underutilized part of your home, it can be an amazing place for your home sauna. An attic can provide the necessary space and privacy needed for a sauna. Attics are also warm, so you don't need to worry about cold floors or chilly air after your cleanse. Go ahead, give a new lease of life to your boring attic and set up your relaxing escape with a luxurious home sauna.
Interested in a Dream Home Sauna?
If you've finally decided to take the plunge and purchase that dream home sauna, reach out to the specialists at SaunaFin. With more than 50 years of sauna expertise, our team will be happy to help you select the perfect sauna that fits your unique needs. Connect with us online or visit our exclusive showroom to check out our exquisite range of saunas yourself!