Why a Barrel Sauna is Perfect for Canadian Winter
Posted on 21 November 2022
Canadian winters are something of a dichotomy. While some Canadians love winter, others dread this time of year. Whether you love or hate the winter season, a great way to elevate your mood is with barrel saunas from SaunaFin. Canadian winters mean less sunlight and sub-freezing temperatures. Thankfully, saunas in Canada can be magical for your mental health while providing warmth on the coldest days. Read on to discover why a barrel sauna is perfect for Canadian winters.
Eases Holiday Season Stress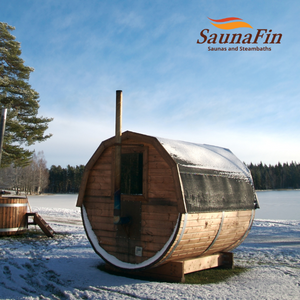 We all look forward to memorable times with family & friends during the holiday season. However, the preps and all the holiday to-do lists can stress out the best of us. A relaxing session in your barrel sauna in Canada is just the recipe for easing all that holiday stress. Enjoy a backyard break with some rest n relaxation in your at-home sauna spa, and renew yourself for the festivities!
Improves Mental Health
Soaking up the moist heat while recuperating in an outdoor barrel sauna can be deeply therapeutic. The lack of sunshine and harsh winter can dampen the spirits and even trigger Seasonal Affective Disorder(SAD). It can affect our mental health, sapping our energy and bringing on mood swings. Here's where saunas can help—unwinding in a sauna relieves stress, reduces anxiety, and boosts mental health. The sauna heat releases feel-good dopamine and other happy hormones to lift your mood and relieve everyday tension and stress. Make your mental health a priority and enjoy some mindful 'you' time relaxing in your barrel sauna.
Unique Design & Construction
The unique design and construction of a barrel sauna make it ideal for use during summer & the harshest winter. They are designed to retain heat and work flawlessly even in below-freezing temperatures. They are quick and easy to assemble, enabling you to enjoy all the wellness benefits of saunas right in the comfort of your backyard. Amongst outdoor saunas, barrel saunas are the top choice for the harsh winters in Canada.
Ideal Outdoor Low Maintenace Sauna
The classic barrel sauna design makes it ideal for the great Canadian outdoors. Its barrel shape and sturdy cedarwood allow it to easily sustain substantial snow loads. The red western cedar wood is naturally resistant to insects and water. The barrel sauna is perfect for outdoor use with virtually no maintenance required.
Enjoy the Outdoors while Staying Warm
Outdoor barrel saunas in Canada let you savour winter snow while staying warm. SaunaFin's panoramic barrel sauna with a glass bubble can be perched right by the mountainside. Revel in the stunning winter landscape, basking in the comforting heat of your barrel sauna. The natural convection heating of the barrel sauna keeps it warm for hours. You can experience a refreshing wellness regimen with an infusion of natural beauty and fresh air while relaxing between steamy sauna rounds.
Bespoke Barrel Saunas from SaunaFin
Barrel saunas are unarguably the most in-demand saunas in Canada. A stylish addition to any backyard, garden or summerhouse, you can't go wrong with a barrel sauna. Renew your body, mind, & soul with an at-home barrel sauna from SaunaFin. As North America's leading suppliers and manufacturers of quality saunas since 1962, we're committed to enhancing your sauna experience with quality saunas, prompt service, and competitive prices. Pamper yourself with our classy yet durable home saunas, sauna kits, and accessories today!