Why People Love Barrel Saunas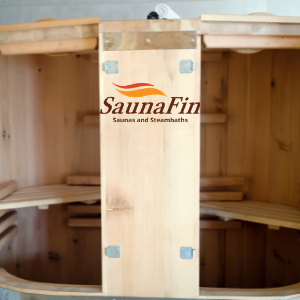 Purchasing a home sauna can be a big decision for home or cottage owners. With many types of home saunas to choose between, how do you know where to begin? Most homeowners ultimately settle on a barrel sauna, the design of the Scandinavian sauna tradition. Barrel saunas combine all the health benefits of regular sauna use into one beautiful design that perfectly complements any home or cottage backyard. Whether you are looking for a lakeside sauna that will offer stunning views of your natural surroundings or a backyard getaway to escape your worries, a barrel sauna is an excellent choice for any homeowner. Here are just a few of the many reasons homeowners purchase a custom home barrel sauna.
Premium Construction
At SaunaFin, we make all our sauna material kits with premium Western red cedar. The final product of your custom kit is a durable home sauna that will last through even the worst Canadian winters. Beyond premium cedar, our kits include corrosion-proof stainless steel bands to hold the barrel sauna in place. With a variety of available sizes, you can build a custom sauna kit to fit the exact needs of you and your family. With little to no home-building experience, you can then follow the detailed instructions provided in your kit to build your custom barrel sauna in as little as one day.
Traditional Design
Home saunas are available in a variety of designs and styles. At SaunaFin, we carry classic designs like the indoor or outdoor cabin sauna and ultra-modern designs like the cube-shaped Luna sauna or raindrop-shaped Pod sauna. However, nothing compares to the traditional and stunning design of a barrel sauna. With a custom home barrel sauna, you can add an architectural feature to your backyard without compromising on style or function. Consistent with Scandinavian cultural tradition, a barrel sauna with a wood-burning heater perfectly recreates the ancient sauna experience. At SaunaFin, you can customize your barrel sauna kit to feature the heater and accessories of your choice to complete your sauna experience.
Health Benefits
Home saunas provide the unique opportunity to gain all the benefits of regular sauna use from the comfort of your home or cottage backyard. A barrel sauna lets you experience a sauna session any time of day or night, whether you want to use your sauna to help you feel relaxed and centred for the day or to help you unwind after a long day of work. Regular sauna use can help you manage symptoms associated with chronic pain and arthritis, stress and anxiety, and allergies and asthma. When combined with a training routine, your sauna can help improve muscle aches and pains, improve flexibility, and even extend endurance training. Over time, you will notice an improvement to your physical and mental health with the help of regular sauna use.
Versatile Use
Many homeowners are interested in a custom sauna to access traditional sauna experiences. However, home saunas also open the opportunity to use your space in unique and exciting ways. Many homeowners choose to use their barrel sauna for hot yoga, stretching, or meditation. Home saunas can also be an excellent place for entertaining or connecting with loved ones.
To get started customizing your barrel sauna material kit, contact the SaunaFin team at 905-738-4017. With over 50 years of experience selling premium sauna kits to homeowners across North America, the SaunaFin team are experts when it comes to home saunas. We can help you build a custom kit and walk you through selecting a heater, accessories, and dimensions that fit best with your family.