Why Start the Year with a Home Sauna?
Posted on 07 December 2022
The new year is approaching, and with that comes a list of resolutions to improve yourself. One of the best ways to help navigate your self-care journey is by starting the year with your very own home sauna. Whether you're looking to reduce stress, aid in muscle recovery, relax, or improve your sleep, the possibilities are endless with premium saunas from SaunaFin. Here's why an outdoor barrel sauna escape or an indoor home sauna sanctuary can kick-start your new year.
Achieve Those New Year's Resolutions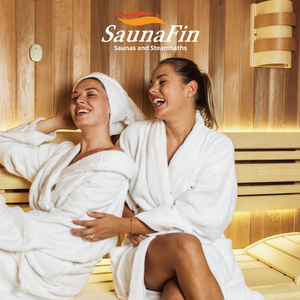 A home sauna can be your best bet to help you reach those new year goals! Whether you want to lose weight, meditate or get in shape, sweating in your barrel sauna can keep you on track. Studies indicate that regular sauna bathing gives a similar boost to your system as running. While you relax in the healing heat of a sauna, your body works overtime to pump blood, produce sweat, and burn calories. This boosts circulation and supercharges your metabolism for better immunity and weight loss. Saunas also aid muscle recovery by enhancing blood circulation and providing oxygenated blood to sore, oxygen-depleted muscles. Ring in the new year with a home sauna and pursue those resolutions and fitness goals with style!
Reduce Stress
Stress reduction is on everyone's to-do list. Chronic stress can be debilitating and worsen the symptoms of anxiety, depression, and insomnia. Reducing stress is critical for your happiness and health. Making a home sauna a part of your wellness routine will work wonders. The sauna heat induces our body to release endorphins, the natural happy hormones. Unwinding in the gentle warmth of your barrel sauna can be an excellent opportunity to relax and recharge. Your personal sauna is the ultimate new year indulgence that can minimize stress and bring a comforting feeling of contentment and well-being.
The Perfect Start to Self-Care
Self-care is taking time to focus on yourself and your needs. You can't pour from an empty cup, so show yourself some TLC with a therapeutic sauna session. Rejuvenate yourself and balance your emotions with a soul-cleansing home sauna session. Saunas give you a moment of stillness, a calming zen space to focus within and simply be with yourself. It's the ideal place for an introduction to meditation; you sit in silence and allow your mind to calm down. Remember—choosing to prioritize and celebrate 'You' can be the beginning of good health, change, and healing.
New Year & New You with SaunaFin
A home sauna makes regular sauna bathing easy and convenient, letting you enjoy health, wellness, and spa-like luxury in the comfort of your home. Invest in yourself and make a healthy start in the new year with the gift of a bespoke home sauna from SaunaFin. With more than 60 years of expertise in the sauna industry, SaunaFin is the first choice for all things sauna! Our entire range of premium-quality saunas is crafted with sturdy aromatic Canadian cedar and great attention to design and detail. Choose from affordable and quick-to-install pre-fab saunas and sauna kits. Or indulge in a custom-designed sauna to complement your style, space, and budget. Toast to the new year with your own home sauna from SaunaFin.