Your Guide to the Pure Cube Sauna Line From Dundalk Leisure Craft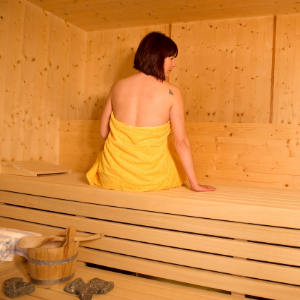 Sauna use is traditional in Scandinavian culture, and a daily sauna session can work wonders on your physical and mental health. A custom home sauna makes it easy to access all these sauna benefits any time of day or night. With a home sauna, you also get the opportunity to invest in a stunning architectural addition to your home or backyard. The Pure Cube Sauna Collection by Dundalk Leisure Craft is the perfect escape for your home or cottage. SaunaFin can help you purchase both an Indoor Pure Cube or an Outdoor Pure Cube sauna model, which comes as a convenient and easy-to-install kit. Here is everything you need to know about the Pure Cube sauna collection.
The Pure Cube Collection
As their name implies, the Pure Cube sauna collection by Dundalk Leisure Craft includes square models with stunning glass doors and features to let in plenty of natural light. Both the indoor and outdoor models are fully customizable and installed in as little as one day.
Indoor Pure Cube
There are two main types of Indoor Pure Cube saunas. The first is the PU570 model, which features a stunning full glass door and full-length window panels for an entire glass front to the sauna. There is the option to add semi-privacy panels on the window to facilitate light entering the sauna while providing bathers with additional privacy. The PU570 is a larger model that makes a great addition to a home gym and can seat many sauna users at once.
A smaller model is the PU550, which includes a full glass-panelled door and a floor-to-ceiling window in the front of the sauna. There is still the option to have semi-privacy panels, and this intimate model is a popular choice for couples and small families.
Outdoor Pure Cube
There are four different types of Outdoor Pure Cube saunas, including both large and small models. One of the larger models, the CU580, features three floor-to-ceiling glass windows as well as a glass door on either the left or right-hand side of the sauna to maximize natural light and views from the inside of your new sauna. The CU580D is also a popular model as it includes a built-in outdoor shower and is perfect as an outdoor poolside sauna. All four models have the option to include semi-privacy panelling on top of the existing windowpanes.
If you are interested in purchasing an Indoor Pure Cube or Outdoor Pure Cube sauna, SaunaFin can help you customize and order your kit. The entire Pure Cube collection includes a 5-year warranty, and we have premium Canadian wood in each kit. The sauna material kits are designed to be built with minimal construction experience and can easily be installed indoors or outdoors, depending on your model. The semi-privacy option allows you to enjoy your sauna in peace and make the most of your home sauna experience. Contact SaunaFin (905-738-4017) today to get started customizing your new Pure Cube home sauna.