How to Customize Your Barrel Sauna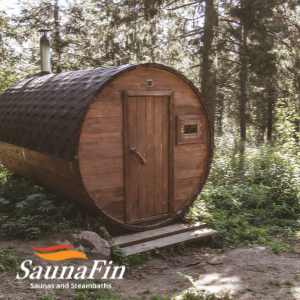 Unlike at a gym or spa, home saunas allow you to customize every element of their design and function. Your home sauna will reflect your personal preferences: from doors to windows, seating options, and even the heating system. With a barrel sauna in Ontario, Canada, you can customize your indoor or outdoor model to include a wide range of bells and whistles. Barrel saunas are the traditional design in Scandinavian culture but can now be fully customized to be meet the specific needs of you and your family thanks to companies like SaunaFin. Here we summarize just a few ways you can fully customize your barrel sauna in Ontario, Canada.
Sauna Lumber Options
At SaunaFin, we make all our barrel saunas with beautiful, Western red cedar. In general, most of our sauna models are available as either clear or knotty Western red cedar. In some instances, we can also customize the sauna to utilize other wood, depending on your personal preference.
Knotty cedar, otherwise known as rustic cedar, is inexpensive and traditional lumber for home saunas. Cedar is a durable wood that will last through years of regular sauna use and is perfect for any outdoor barrel sauna in Ontario, Canada. Beyond the aesthetic and durability of cedar, many people choose this wood for its pleasing aroma, contributing to the overall sauna experience.
Clear cedar, on the other hand, is the most luxurious lumber available for SaunaFin models. Clear cedar lacks the knots found in rustic wood and can impact the texture and long-term durability of certain lumbers. Clear cedar is our most durable lumber option that still emits a lovely scent during sauna sessions.
Window Options
If you are interested in the traditional barrel design of Scandinavian tradition but are looking for a unique addition to your home or cottage backyard, look no further than the panorama model. At SaunaFin, our panorama barrel sauna includes an acrylic bubble back to facilitate natural light entry and provide stunning views of your surroundings. If you plan to situate your barrel model next to a lake, pool, or other vistas, an acrylic bubble back will let you take in your natural surroundings from the comfort of your new home sauna.
Depending on the size of your home sauna, other options are available to customize your window options through SaunaFin. You can add windows flanking your sauna door or in the walls of the sauna, depending on the design you ultimately choose.
Bench Options
SaunaFin offers plenty of options to customize the seating in your backyard sauna. Depending on the size and design of your sauna, you can upgrade your seating to include tiered benches, ergonomic backrests, and more. If you plan to seat the entire family or entertain frequently, custom seating is an essential consideration for your new sauna. The sauna descriptions through SaunaFin will provide a general idea for the number of people that can comfortably fit in each barrel sauna model.
Door Customization Options
A sauna door is crucial for maintaining the internal temperature and regulating the flow into and out of the building. There are four available door options through SaunaFin, and many sauna owners choose to purchase multiple doors to reflect changes in the seasons. Many people want an all-glass door for the warm summer months and an all-wood door to maximize heat loss prevention during the winter.
All-glass doors maximize the entry of natural light and provide optimal visibility for anyone entering or leaving the sauna. All-glass doors are a less popular option in winter due to fogging and the potential for heat loss. Alternatively, a fading glass door provides a degree of privacy for bathers while still facilitating the entry of natural light.
SaunaFin's most popular option is a wood door with a window. The wood provides some privacy, while the window allows bathers to look for traffic while entering or exiting the sauna. However, an all-wood door will maximize privacy and heat loss prevention and are popular for outdoor sauna models.
Sauna Heater Upgrades
Almost all saunas sold through SaunaFin are customizable to include the heater of your choice. You can choose a traditional wood-burning heater or an ultra-modern heater that has digital controls for outdoor saunas. Before ordering your home sauna, browse through the available heater options to select the perfect model for your barrel sauna.
Have questions about customizing a home or cottage sauna? Contact the SaunaFin team to learn more about the elements of a sauna material kit and all the customization options available for your new sauna. Our goal is to help you create the perfect sauna for your home or cottage backyard. Whether that includes custom lumber, an all-glass sauna door, or a wood-burning heater, we are here to help make your sauna dreams a reality.