How to Make Your Sauna a Relaxation Sanctuary
During these hectic and stressful times, seeking opportunities to disconnect and find balance is essential to mental wellness and stamina. Indoor saunas, whether it's an indoor cabin sauna or a kit, allows you to create a personal escape where you can take time daily or to enjoy the peace of solitude. At SaunaFin, we offer a selection of high-quality home saunas that offer aesthetic and functional enhancements to your property, but more importantly give you the break you deserve.
Explore how you can upgrade your sauna to maximize relaxation with and indulge in mindful relaxation.
Enhancing Your Indoor Sauna with Aromatherapy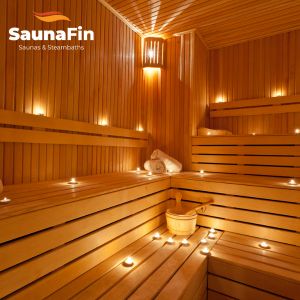 Indoor saunas are an excellent place to unwind and immerse yourself in a luxurious and relaxing space.
In addition to basking in a hot sauna, you can add aromatherapy with the use of essential oils to enhance your relaxation. Different essential oils provide various benefits. So you can have a couple of essential oils to help with your relaxation goals.
A few recommended essential oils that might work well to enhance your sauna experience could be the lavender, peppermint, and ylang-ylang oils.
Lavender oil: helps to ease stress and anxiety and helps with relaxation.
Peppermint oil: helps ease tension in the body and has both energizing and cooling qualities.
Ylang Ylang oil: is also effective at easing stress and helping to improve your mood.
Basking in indoor cabin saunas while these exotic scents waft about would transform your sauna into a center for relaxation.
Add Music and Lighting to Create a Relaxing Experience
SaunaFin offers a variety of lighting accessories and light shades you can choose from. Warm and dimmed lighting will help you feel more relaxed within your sauna.
You can add music that you find relaxing as well. If you want to add the quintessential spa music to help you enter into ease and relaxation while in your sauna, you can play it to help you unwind. People find the music relaxing when they go for a massage or any related spa experience, so you can incorporate similar music into your home sauna.
Similarly, you can play sounds from nature to help ease stress and relax. These little elements help you feel that entering the sauna is an experience that is meant to be enjoyed and relished.
These additional items will help create a soothing ambience which will help you enter relaxation mode and keep you comfortable.
Don't Forget Additional Accessories
You can create an authentic spa experience by having comfortable slippers and a cozy robe available outside your sauna for personal use. You want to maintain your relaxed vibe when you emerge from the sauna and not feel cold or uncomfortable.
SaunaFin for Home Saunas
SaunaFin is a leader in providing high-quality home saunas and has an over 60-year record of creating happy customers. We use excellent durable materials and offer excellent customer service. We pay attention to every minute detail and ensure our customers walk away and remain happy with their sauna.