Advantages and Disadvantages of a Sauna Wood Stove
Posted on 05 February 2021
When it comes to building a home sauna, homeowners have plenty of options to customize their design. With sauna kits, you will be able to select the size, style, and heater for your new sauna. Home saunas can be heated using either an electric heater or a sauna wood burning stove. Saunas built in the Scandinavian tradition usually feature a sauna wood stove as they provide a variety of benefits to the sauna owner. Just like other types of heaters, a sauna wood stove also has disadvantages. Below, we have summarized a few of the pros and cons of a sauna wood burning stove for your home sauna.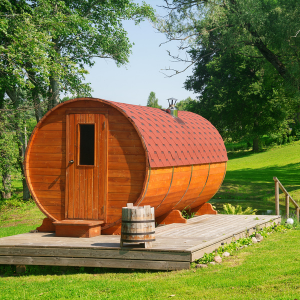 Advantages of a Sauna Wood Stove
A sauna wood stove is traditionally used in saunas as it does not require electricity. Without needing an electric current, you can build your sauna wherever you want without the need for an electrician. Your heater will also not require any heating elements that can eventually wear out and require replacement. Although wood can be expensive, you won't need to pay any increases on your electricity bill, and your sauna will work even if the power goes out. A sauna wood stove is also more affordable than electric heater models. Operating your sauna wood burning stove will generate a pleasant scent and the soothing noise of a crackling fire. A wood-burning stove also creates a higher heat and minimal humidity, creating a sauna's perfect interior environment.
Disadvantages of a Sauna Wood Stove
The main disadvantages of a sauna wood stove are associated with the use and storage of wood. Purchasing wood can be expensive over time, and you will require a dry storage area to keep your wood protected and ready to use. A sauna wood burning stove also takes longer to heat up and requires additional work to build the fire. An electric heater, on the other hand, operates by merely flicking a switch. A wood fire will also generate smoke and carbon monoxide that needs to be properly ventilated, making it harder to use a sauna wood stove in indoor sauna models. As your fire burns, you will need to monitor the flames and add wood to maintain the heat of the sauna. Following each sauna session, you will need to remove ash and occasionally clean the chimney as part of a regular maintenance routine. If you have a wood-burning fireplace in your home, this will be a familiar process, and you can use wood for both your sauna and your fireplace.
SaunaFin sells a large selection of sauna material kits that reflect the latest in home design. Our models range from traditional Scandinavian barrel saunas to ultra-modern rain-drop shaped Pod saunas. All our models can be fitted with the heater of your choice, either a firebrick or no firebrick sauna wood stove or an electric heater. Our sauna material kits are constructed with high quality Western red cedar and can be customized to feature your choosing accessories. To purchase a custom sauna kit or learn more about a sauna wood burning stove for your home sauna, contact SaunaFin at 905-738-4017.