How To Choose Between An Indoor Vs. Outdoor Sauna
Posted on 29 October 2021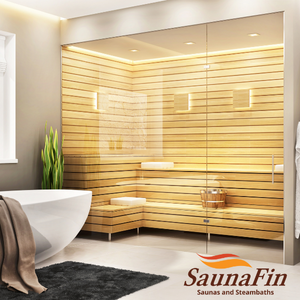 With more people becoming aware of the incredible benefits of regular sauna usage, the popularity of indoor and outdoor pure cube saunas has skyrocketed. The promise of clearer skin, natural wellness, and boosted immunity has people convinced that investing in a home sauna is worth the money. The only question is whether to choose an indoor pure cube sauna or an outdoor pure cube sauna! Well, the experts at SaunaFin give you a complete low-down on both to help you select the sauna that is right for you.
Indoor vs. Outdoor Home Saunas
The primary difference between an indoor pure cube sauna and an outdoor one is the location. An outdoor sauna is installed outside the home, usually in the backyard, next to the pool or a lake. An indoor sauna is installed in home gyms, spas, master bathrooms, or basements. A quality sauna system will give the same heating and benefits, regardless of where it is placed. Your choice of an indoor or outdoor sauna actually depends on considerations like personal preference, available space, and budget.
Outdoor Pure Cube Sauna Considerations
An outdoor pure cube sauna can be your choice if you're looking for:
A natural outdoor setting: Placing an outdoor pure cube sauna in a natural environment in the garden or overlooking a scenic lake or forest can add to your sauna experience. Nature has a calming effect, and even a simple walk to the sauna can rejuvenate you.
Wider choice of locations: Unlike indoor saunas, outdoor saunas can be placed almost anywhere on your property and do not have any space constraints.
Aesthetics: Outdoor saunas offer a variety of aesthetically pleasing styles and shapes. You can choose from a rustic feel barrel sauna, an outdoor pure cube sauna, or a contemporary luna sauna. Either way, you're spoilt for choice!
Wide variety of locations: While indoor saunas will always be limited by the amount of space you have, outdoor saunas come in various shapes and sizes and can be placed in almost any area of your property.
However, outdoor saunas are not without their limitations. They can be more challenging to install and maintain. Outdoor locations require additional electrical fittings and a proper levelled foundation that can add to the cost. They also require more maintenance with exposure to the elements and require exterior washing, leak, and weatherproofing.
Indoor Pure Cube Sauna Considerations
You can choose an indoor pure cube sauna if you're looking for:
Convenience: Indoor saunas are convenient and accessible as they are located inside your house. Rain or snow, your indoor sauna can be reached easily, and you aren't at the mercy of the elements.
Easy maintenance: As the sauna is located indoors, it won't be affected by outside weather conditions. No need to bother about weatherproofing, leaks, or exterior washing.
Easy installation: Indoor saunas are quicker to install as no additional electrical work, permits, or foundation work is required.
Lower cost: Indoor saunas can be relatively cheaper to install as there are no additional expenses of electrical fittings, weatherproofing, or site levelling.
However, indoor saunas have their own drawbacks, the biggest one being space and place constraints. The choice of sauna style can be affected by the space available. Regular bathrooms may not have enough room for a large sauna, and you may have to settle for a smaller one. You also have to ensure proper ventilation for the smooth functioning of the sauna.
Keep the above considerations in mind, and choosing between an outdoor pure cube sauna or an indoor one will be a breeze! If you still need help, reach out to the pros at SaunaFin and get started on your sauna journey!