Outdoor Barrel Sauna Maintenance Tips
Posted on 05 December 2022
Barrel saunas are the perfect outdoor saunas—simple yet effective, practical yet stunning! Their barrel-shaped design provides natural insulation with quick heating and retention. Ideal for your mountain cottage, backyard, or pool. Barrel saunas from SaunaFin provide decades of relaxing therapeutic benefits, all in the cozy comfort of your home. Still, you need regular maintenance and care for a smooth-functioning home sauna.
Read on to learn how regular minimum maintenance can maximize the performance and longevity of your beloved barrel sauna.
Cleaning The Interior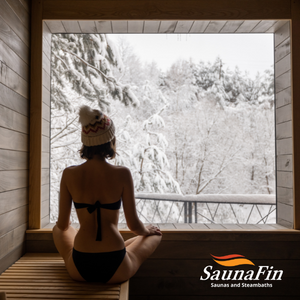 Clean the interiors of your barrel sauna every month or two with these simple steps:
Vacuum out or sweep the sauna interior to remove tracked-in dust, dirt, twigs, leaves, and other debris.
Lightly wash the benches and floor with warm soapy water. Never use harsh chemical cleaners or ammonia—any residue can lead to toxic fumes. Plus, it can also result in graying of the timber.
Wipe dry the seats with a soft microfiber cloth.
Mop the floor and open the door to facilitate ventilation and air drying.
Use fine-grit sandpaper to rub out stubborn spots with a gentle hand.
Never use stains, oils, or other treatments on the wood inside your barrel sauna. Enjoy the authentic natural feel and scent of your cedar wood. Sauna panelling/cladding dries naturally and does not require any treatment.
There is no need to disinfect your sauna as the high temperature inside can eliminate germs and viruses.
Cleaning The Exterior
All barrel saunas from SaunFin are manufactured with sturdy and functional Canadian cedar. Ensure longevity and cleanliness by gently pressure washing the exterior with a mild cleaning solution and water. This will get rid of accumulated dirt and debris.
Periodically check for water seepage, cracks, or other damage and take necessary action to address the issue.
Over time, the sauna wood may shrink or expand depending on the water absorption and weather conditions. Ideally, the timber will expand and provide a close fit for the staves. In case it contracts, you may need to tighten the stave bands.
Preventing Interior & Exterior Damage
Always cleanse your feet before going inside the sauna. Either rinse your feet or, better yet, take a quick shower.
Sweating in a sauna can also lead to discolouration and sweat stains. Sit on a thick, soft towel to avoid staining the timber.
Always take a minute to clean the sauna after using it. Quickly wipe off the sauna benches and floor with a damp cloth/brush and leave the sauna door open to dry everything.
With time your outdoor sauna will weather due to the elements and may change into a naturally weathered grey colour. You can use a transparent waterproofing stain on your barrel sauna to retain its natural cedar colour and durability.
Outstanding Outdoor Saunas From SaunaFin
Now that you know the basics of sauna care, it's time to begin your barrel sauna escape!
As the front-runners in the sauna industry for over 60 years, you know you're in safe hands with the expertise and experience of SaunaFin. Our ultimate range of barrel saunas is crafted to perfection from natural Canadian cedar - with affordable prices to suit various budgets and preferences.
Contact us to find the perfect indoor or outdoor sauna today!