The Best Type of Outdoor Sauna For My Cottage
Your cottage is the perfect place to have the best sauna experience. What's better than adding more bliss to your place of relaxation? Basking in the blissful heat of your outdoor barrel sauna from SaunaFin! Outdoor saunas have no space or design restrictions, so you can experiment with your dream sauna's style, location, or size. Our DIY sauna kits and outdoor saunas come with customizations to create the perfect retreat for your cottage or backyard. At SaunaFin, our goal is to provide our customers with the best sauna experience possible.
Here are some exclusive outdoor saunas for your private oasis.
Clear Cedar Barrel Saunas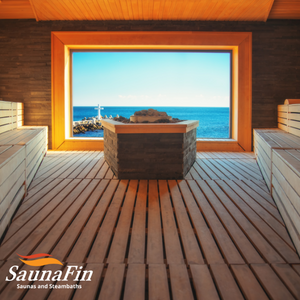 Cedar barrel saunas are pretty popular with sauna lovers. The quaint barrel shape has a rustic charm, and the clear red western cedar is decay-resistant and durable. The wonderful aroma and rich, earthy hues only add to its appeal. Add a tempered glass door for a scenic view. If you wish to build your own barrel sauna, SaunaFin's easy-to-assemble DIY sauna kits are a must-buy! The spectacular Panoramic Barrel saunas offer a classy twist to the basic barrel - one end is fitted with a full-sized acrylic bubble, offering breathtaking views of the landscape outside.
Dundalk LeisureCraft Outdoor Saunas
Dundalk saunas come in various styles - from mini to large saunas, barrel, and cabin-shaped saunas, indoor or outdoor. Each Dundalk sauna is made with durable western cedar wood and can be assembled in about 4-6 hours. Add to the sauna experience by enjoying spectacular views from your cottage while unwinding in your outdoor Dundalk sauna. Take a refreshing dip in the lake or pool to elevate your sauna quotient!
Clear Cedar Pod Saunas
Pod saunas come in a refreshing raindrop design that adds extra height. These sturdy cedar saunas have two standard rows of single-tier benches. The added elevation of a pod sauna also facilitates two-tier seating on the rear wall. SaunaFin experts can add a porch or changing room to customize the pod.
Outdoor Luna Sauna
Add a classy, contemporary touch to your cottage with the sleek lines of our Luna sauna. The elegant glass doors, gently rounded corners, and beautiful Canadian red western cedar wood will surely pull on your soul strings! The Luna sauna has ample space for a luxurious getaway for a couple, family, or friends.
Outdoor Pure Cube Vision Saunas
These bespoke modular saunas are designed with a frameless glass door, a complete glass wall, and a waterproof EPDM membrane roof. The state-of-the-art design features large glass panels on the front wall with optional semi-privacy glass panels. Unwind and relax in the soothing heat of your pure-vision sauna while feasting on the stunning outside landscape.
Quick Outdoor Sauna Tips
Ensure that the windows are at a distance from the heating source and have double-paned glass.
Choose a location that maximizes your views and is conveniently accessible from your cottage or indoor space.
Opt for a wood-burning stove for a traditional touch, or use an electric heater for convenience. Whichever one you choose, ensure that your outdoor sauna is energy-efficient and sustainable.
Add sauna accessories to enhance your sauna experience and elevate your sauna quotient.
Custom Outdoor & Indoor Saunas from SaunaFin
Whether you're looking to add a cozy touch to your cottage in the woods with a barrel sauna or buying a DIY sauna kit for your backyard, a SaunaFin home sauna is for keeps! Opt for a custom sauna or select from the vast array of designs and sauna options.