What to Look For in Outdoor Sauna Kits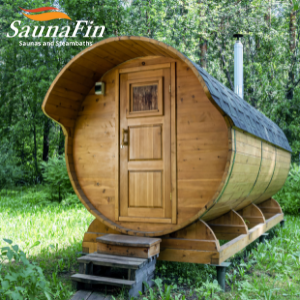 Imagine cozying up to a perfect dry heat after a long day of work. This can be your reality even in the harsh Canadian winters, thanks to saunas and sauna kits in Canada. There are so many things to consider when buying a sauna; it can be an overwhelming amount of information. To find out more about infrared and barrel saunas in Canada, contact our experts at SaunaFin. We are ready to share a wealth of knowledge with you and help narrow down your choices!
For you to get the best outdoor sauna, we have developed a buying guide to explain all the key factors to consider. We have also completed an outline of the best outdoor sauna kits in Canada available on the market. Keep reading to find out more!
Space
When buying a home sauna, one thing to consider is the amount of space you have to work with. Another factor might be how many people are intending to use the sauna at once. Both of these points will guide you to a shape that works in your space. The ground below the sauna must be flat.
Shape
There is a barrel sauna shape, which is very popular. This shape heats up quickly and disperses the heat evenly because of its rounded roof. A barrel sauna will take up more space than its counterparts, which is something to consider. If you would like something more compact, a different shape would better suit your needs.
Heat Source
Typically what differentiates infrared and traditional outdoor saunas is the heat source. There are options when it comes to heating your sauna. One of these is the infrared sauna, which works via radiant heat. Less steam is produced, but the temperature is easy to control, and your sauna will heat up quickly. More traditional methods of heating your sauna include wood and electric heaters. If you prefer steam, a conventional heater will be your best bet.
Warranty
An outdoor sauna is a long-term investment, so you will want to ensure that it has a good warranty. Being made of high-quality material will ensure that your sauna lasts throughout the cold Canadian winters.
Materials
An outdoor sauna needs to be constructed of the finest quality woods because it is more prone to pests and weather fluctuations than its indoor counterpart. Both hemlock and cedar have similar stain resistance and strength. Spruce would also be a good option since it ensures the heat will stay within your sauna. These materials make for easy construction so that you can enjoy your sauna as soon as possible.
Customization
You are going to love spending time in your very own sauna. Why not make it a true oasis by adding some value features? A built-in sound system or waterproof mp3 player or headphones are an excellent investment. You can even get a waterproof fitness tracker to see your heart rate rise and be able to track it.
You can purchase accessories for your sauna, such as a bucket and scoop if you have rocks, a Himalayan salt lamp, and a scent diffuser. If you want to pull out all the stops, try chromotherapy for a genuinely relaxing sauna session, or LED lights to change the atmosphere at night.
Conclusion
Saunas are widely touted for their many health benefits, ease of construction, and ultimate relaxation. Now you know some handy things to keep in mind when shopping for your very own sauna. At SaunaFin, we pride ourselves on the wealth of knowledge that our experts have. We take the time to help you make many considerations, so please reach out to our experts for more information, and begin enjoying your sauna as soon as possible!