Proper Temperature Setting for Dundalk Saunas
A new cabin sauna from SaunaFin can completely transform your home or cottage backyard. At SaunaFin, we sell Dundalk saunas as fully customizable sauna material kits with detailed instructions for even first-time DIYers. When customizing your home sauna, there are plenty of options to choose the design, seating, and heater of your choice. Once you install your home sauna, all the benefits of regular sauna use are thanks to their warm, welcoming environment. However, many homeowners are not sure what settings to use for an ideal sauna temperature. Here is your comprehensive guide to choosing the best temperature for your home sauna.
Wet or Dry Sauna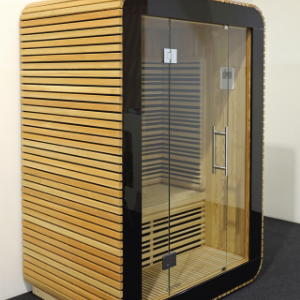 The temperature of your cabin sauna is closely related to how you intend to use the space and your personal preferences. For example, some experienced sauna users prefer higher temperatures and longer sessions than first-time sauna owners, who often prefer reduced heat. A great way to modulate your warmth without changing the temperature is to try a wet versus a dry sauna.
A wet sauna generates steam by splashing water onto the sauna rocks. The high humidity of a steamy sauna elevates the perception of heat, allowing bathers to experience a warmer environment without turning up the heater. When it comes to multiple sauna users with different preferences, a wet sauna will enable bathers to turn up the heater without adjusting their heater settings. A damp heat can also help alleviate congestion and respiratory symptoms. Many people who suffer from chronic allergies, asthma, or frequent colds find that a regular wet sauna session helps them feel much better.
Alternatively, a dry sauna allows bathers to comfortable handle higher temperatures. If you are looking for maximum heat, a dry sauna is likely the type of session you need. The ultra-high temperatures of a dry sauna also provide a range of host benefits, including improving muscle aches and pains and improving recovery after a workout.
The Type of Sauna Heater Matters
When it comes to Dundalk saunas sold through SaunaFin, the type of heater is crucial. Traditional Scandinavian saunas use wood-burning heaters to generate both a warm environment and the pleasing aroma of a roaring fire. However, modern saunas have a range of available heater options, including wood-burning, electric, and infrared models. All three types of heaters operate at different ideal temperatures and take various amounts of time to pre-heat. In general, the perfect temperature in most home saunas is between 160°F and 194°F, depending on your personal preferences.
What is the Ideal Temperature?
The type of heater will also affect the ideal temperature for your cabin sauna. For example, a wet sauna will use lower temperatures in the range of 90°F -120°F. Although this might seem low, the steam generated during a wet sauna session will make the room feel much warmer than the actual temperature. On the other hand, a dry sauna session can be at much higher temperatures, often in the range of 160°F and 194°F.
Common Mistakes to Avoid
When it comes to the high temperatures of a home sauna, bathers make many common mistakes. The most common mistake is forgetting to focus on hydration. The high heat of a sauna can quickly dehydrate even seasoned sauna users, and it is essential to drink plenty of fluids before, during, and after any sauna session. Unfortunately, staying hydrated also means steering clear of alcohol during sauna use, as it can accelerate the dehydration process. It is also crucial to spend only short periods in the sauna, interspersed with sessions in a pool, lake or another cool area. Traditional Scandinavian sauna culture entails multiple quick sauna sessions to reap the full benefits of regular use.
With a brand-new home sauna from SaunaFin, you can customize every element of your experience. Whether you prefer maximum heat for short sessions or a cooler temperature for more extended periods, your home sauna is fully customizable to meet your needs. By choosing your perfect heater model, you can ensure every element of your sauna fits with you and your family. From traditional wood-burning heaters to modern electric heaters with external operations, SaunaFin sells the perfect heater for any family. Contact the SaunaFin team today to learn more about our custom Dundalk saunas.