How Do Sauna Heaters Work?
Posted on 20 January 2021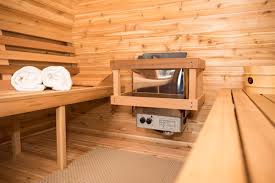 With a custom at-home sauna, you and your family can access spa-quality experiences any time of year. Sauna material kits are now making it easier than ever to build a custom home sauna in your home or cottage. When customizing your kit, you will be able to choose between a variety of sauna heaters as well as the overall size and design of your sauna. A range of sauna heaters is available for your indoor or outdoor sauna, including wood burning heaters and electric heaters. In this blog post, we have summarized everything you need to know about sauna heaters when building your custom home sauna kit.
Different Kinds of Sauna Heaters
A variety of sauna heaters are available for at-home sauna models. Three types of electric sauna heaters are available as well as two different types of wood-burning heaters. Here we've outlined the main differences between each of the sauna heater models.
Sauna Craft
In production since 1980, the Sauna Craft electric sauna heater is made in Canada. It is a durable and well-trusted sauna heater that is made with 100% stainless steel to last through years of use. In fact, the company offers a lifetime warranty for residential users of the Sauna Craft sauna heater!
Tylo
A truly remarkable sauna heater brand, the Tylo models offer three unique features. The first is a "thermosafe" system including a cover that is safe to touch, no matter how high the heat is set. This is a great option for anyone looking for extra safety with their sauna heater. Second, the Tylo brand offers the quickest heat-up time of any heater available on the market. Perfect for anyone who doesn't want to wait for a long time while their sauna heats up. Finally, the Tylo brand sports the lowest energy consumption of any of the major sauna heaters. This is one of the reasons it is popular with homeowners looking to reduce their carbon footprint and their energy bill.
Saaku
Saaku models are a popular sauna heater for many indoor and outdoor sauna models. With controls built directly into the heater, it includes a useful 9-hour delay feature to make sure you can return home from work to a warm and toasty sauna.
Wood Burning
Wood burning heaters either come with or without Firebrick. Models that include Firebrick are further protected by the high temperature of the fire and tend to last significantly longer than non-firebrick models. Wood burning heaters evoke the traditional scent and heat of a Scandinavian sauna. They also do not require any electricity, making them a great choice for home or cottage backyards.
At SaunaFin, we sell a variety of sauna material kits that can be customized to feature the sauna heater of your choice. Whether you are looking for traditional wood-burning heaters or ultra-modern and eco-friendly electric heaters, we've got you covered. For more information on any of our sauna heaters, contact the SaunaFin team at 905-738-4017.