How SaunaFin Helps You Customize Your Home Sauna Kit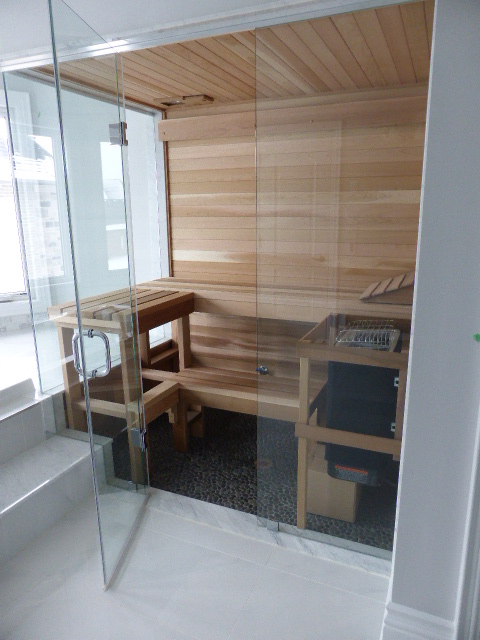 At-home saunas are becoming a popular addition to many homes across North America and Europe. With an at-home sauna, you can access spa-quality treatments anytime from the comfort of your home or backyard. If you are looking for a home sauna, you may wonder where to begin. At SaunaFin, our sauna kits make it easier than ever to design and build a custom home sauna. These DIY home sauna kits conveniently package all the materials you will need to build the inside of your new home sauna. Our kits can be installed indoors or outdoors and come in a variety of designs and sizes. In this blog post, we are highlighting some of the many ways the SaunaFin team can help you customize your new home sauna.
All the Materials in One Convenient Package
At SaunaFin, our sauna kits are the perfect project for any Do-It-Yourselfer. All our sauna material kits are made of clear, Canadian, Western red cedar and the design and size of the kit can be completely customized to fit your needs. Compared to purchasing each of the materials individually, a sauna material kit can help you save hundreds of dollars when building your new at-home sauna. Sauna kits and outdoor sauna kits make it easy to build a brand-new sauna either in your home or in your backyard.
Customize Your Kit
Each sauna material kit contains a foil vapour barrier and cedar lining for walls, ceilings, and benches with furniture grade finishing. It also contains a sauna door, appropriate hardware, the sauna heater and controls, vapour proof lighting and more. You will need to supply the framing, insulation, and exterior finishes as well as any wiring.
Every element of this kit can then be customized to fit your needs for your indoor or outdoor sauna. You can select upgrades for your door, lighting, and interior design as well as the type of heater and its controls. By designing the exterior elements yourself, you can also ensure that it complements the design of your master bathroom, home gym, pool cabana or any other space in which the sauna is installed.
Why Choose a Sauna Kit?
Sauna kits save you time and money when it comes to building an at-home sauna. These kits make it easier than ever to fully customize your home sauna design to meet your individual needs. Select from a variety of sizes and styles to install your new sauna either indoors or outdoors. The final product will be a high-quality, cedar sauna that you can enjoy for years to come.
At SaunaFin, we sell a variety of sauna kits and outdoor sauna kits to fit every home or budget. With over 50 years of experience in the sauna industry, we are dedicated to providing high-quality, home saunas to our customers. For more information on any of our kits, or to start customizing your own kit, contact us today at 905-738-4017.