The Difference Between a Pre-Fab Sauna and a DIY Sauna Kit
Posted on 28 September 2018
Sauna use offers numerous health benefits. Have you been considering purchasing a sauna that is easy to assemble? It's important to know the difference between a Pre-Fab sauna and a DIY sauna kit. Despite the differences, it's easy to get confused between the two. These products each have their own benefits and learning about saunas can help you understand which option is more suitable for your needs.
What is a Pre-Fab Sauna?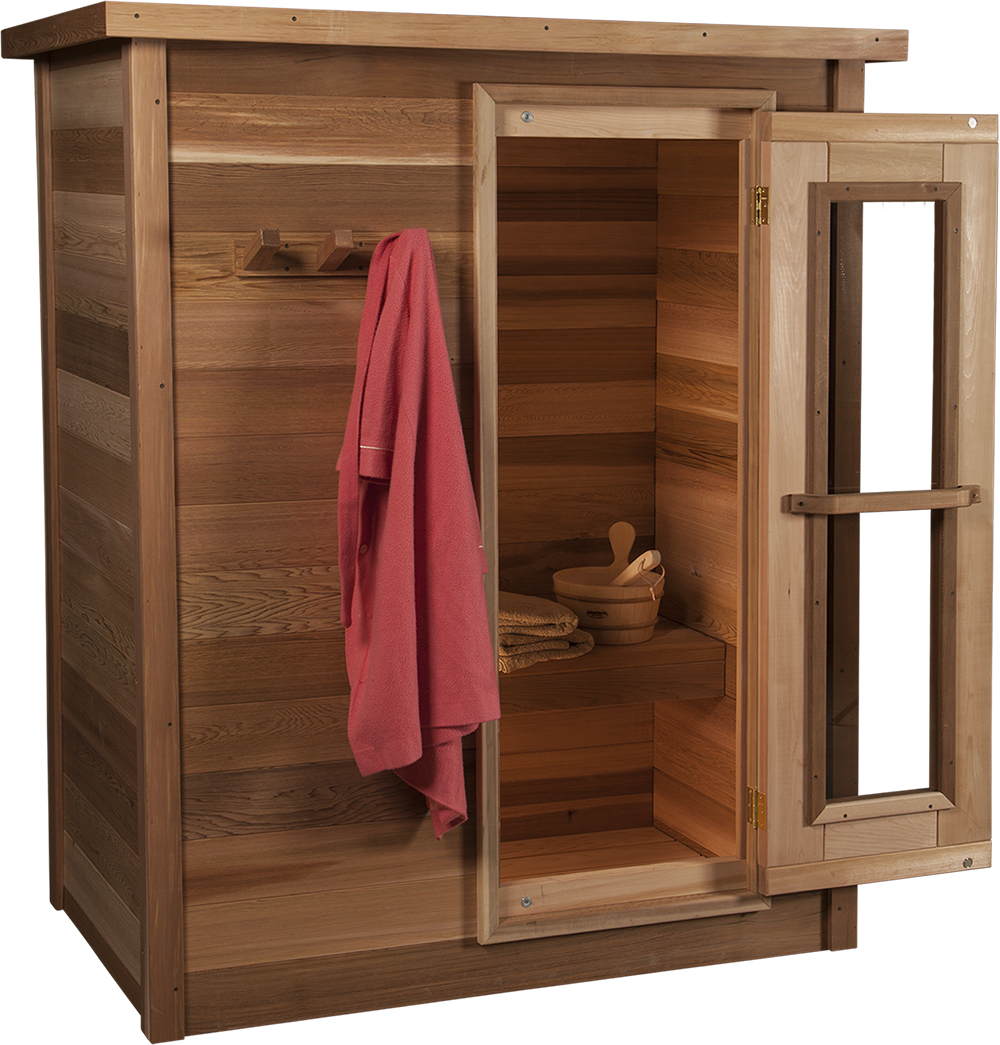 A Pre-Fab modular sauna kit is pre-fabricated to reduce the amount of work involved (unlike a DIY sauna kit where you do all the cutting yourself), which makes building a sauna quick and easy. That is the main difference between a Pre-Fab sauna and a DIY sauna kit. With this type of sauna kit, you can quickly install a sturdy, freestanding sauna room either indoors or outdoors. Our most popular pre-fab saunas are constructed using 2x6 Western red Cedar logs. Some slide together along threaded rods, some are banded together and some require some screwing of boards or panels. All come with pre-assembled benches and door. Indoor saunas should be set on a concrete or tiled floor.
PREFAB SAUNAS
(Also commonly referred to as Pre Built Saunas)
Pre-Fab saunas have certain components that are already assembled, making the process of putting your sauna together quick and easy
Your Pre-Fab sauna can be put together in just a few hours
Since the walls are self-supporting, you don't need to worry about extra framing or insulation with your Pre-Fab sauna
Special tools are not needed to assemble your Pre-Fab sauna as they have been designed for quick assembly
You can dismantle your Pre-Fab sauna as needed
What is a Sauna Kit?
A Sauna Material Package or Sauna Kit is ideal for individuals who excel in renovation related DIY projects.
A Sauna Kit is a real DIY project because you will need to do all of the cutting yourself. That is the difference between a Pre-Fab sauna and a DIY sauna kit. Sauna Material Kit packages only come with the "inside skin" of the sauna, whereas Pre-Fab sauna packages are self-contained. The DIY material kit is design for the building contractor or handy homeowner.
SAUNA KITS
(Also commonly referred to as Sauna Material Packages, Sauna Liner Kits, Do-It-Yourself Sauna Kits)
The inner "skin" on your sauna is referred to as a Sauna Kit
All you need to do to assemble your Sauna Kit is build the frame walls, insulate and finish the sauna exterior
Your Sauna Kit includes everything you need, including the vapor barrier, bench material, cedar lining, door, heater, molding and so on
Another simple step for you is to hang the door and assemble and install the benches
Your Sauna Kit can be permanently installed into your home for a new construction or during renovations
Your installed kit can be conveniently customized into the size and shape you desire and suit any décor
As they are convenient and simple to assemble, Sauna Kits are favored over Pre-Fab saunas
Which One Should I Install in My Home?
Knowing which sauna is best for your home depends on your lifestyle and preferences. If you are a renter instead of a home owner, you may prefer a sauna that is portable. A portable Pre-Fab sauna is definitely the perfect choice for an individual who is uncertain about their tastes as well. With Pre-Fab saunas, you are able to change your mind from time to time. As a Pre-Fab sauna owner, you are also more likely to be open to upgrading your sauna and purchasing a new one, due to the ease of not having to build it! With a sauna kit, building a sauna in one part of your home once, may be all you can handle. This could end in you never wanting to upgrade your sauna again.
Final Breakdown: WHICH IS BEST FOR YOU?
Pre-Fab
Again, Pre-Fab saunas are portable. Although it is not recommended to move them often, this sauna can be taken apart and re-assembled at another location. This type of sauna is a good choice for renters, already finished basements and for outdoor saunas
If you are unable to build a sauna and are unable to contract someone to build one, then this is an excellent choice
Pre-Fab saunas are great for individuals who don't want to deal with the mess that goes along with construction
If you want to take advantage of the many health benefits that sauna use can offer, it's important to choose the type of sauna that is best for you. While a Pre-Fab sauna kit is pre-fabricated to reduce the amount of work involved (which makes building your sauna quick and easy), it can be costly. With a DIY sauna kit, you can save money if you are installing it yourself, however, if you are hiring a contractor, the labour will even out the pricing. The biggest consideration: Do you want the sauna built in as part of your home or is pre-fab more practical? By taking these pros and cons into consideration, we can help you decide which sauna might be best for you.
Contact us today as our team of sauna professionals can answer any questions you may have. We can certainly help you if you are undecided on what's right for you