SaunaFin 's Guide to the 8 Best Sauna Kits
Saunas are a unique and relaxing addition to any indoor or outdoor living space. Many people are interested in building a sauna in their home but aren't sure where to begin, how to find parts, or what designs are available. A sauna kit may be the solution to your problems, allowing you to build a custom sauna in your home with all the parts delivered in one convenient package. Currently, there are a variety of sauna kits available through online and instore retailers, including everything from traditional to infrared to wood stove designs. In this blog post, we review the top eight sauna kits to help you choose the best kit to fit your specific needs. Each model discussed below has been tested and reviewed to ensure you have a high-quality, exceptionally designed sauna. Of course, there is always the option to customize any design, allowing you to build a truly unique sauna for your home or cottage.
View Our List of the 8 Best Sauna Kits
1. Cabin Prefab Clear (pre-fab saunas available in indoor and door versions)
These easy-to-use cabin prefab kits include everything you need to build you own sauna inside of your home or in a backyard or cottage. These beautiful kits are built with a stylish Western red cedar wood, creating a strong and durable finished product. An aesthetically pleasing and unique addition to any home, these kits come in eight sizes and include a cedar door with glass window. Two tier benches provide plenty of seating and an optional side window can allow you to customize the amount of light entering the sauna. In addition to the strength provided by the cedar, the overall kit involves a simple, log-style assembly that can be built in just 2-3 hours! These stunning kits are made in Canada and range in price from $4000-$7000 depending on the size, seating anywhere from 2-5 people.
The barrel sauna is a unique piece for any outdoor living space, with a simple and stunning overall design. Two materials are currently available: either Knotty or Clear Western Red Cedar. These traditional-style saunas sit upwards of six people and are perfect for your home or cottage. The door features tempered glass, and the stunning barrel design allows for efficient heating, without sacrificing seating. These kits are manufactured in Canada and will allow you to enjoy your outdoor sauna for years to come. Ranging in price from $4500-$8000, you can find a barrel sauna to fit 2-6 people.
A pod sauna is designed to look like a raindrop, adding a unique piece of architecture to your home or cottage backyard. This unique shape facilitates additional headspace, while still comfortably seating four people. Available in Clear or Knotty Western red cedar, you can also choose between clear cedar shingles or clear or knotty bevel siding to waterproof the sauna for outdoor use. The door features a light bronze and tempered glass window, allowing natural light to filter in as you relax. The pod sauna designs range in price from $5000-$9000 and can feature additional outdoor seating to allow you to cool off between heating sessions.
This beautiful sauna features a stunning full glass front, allowing you to view your outdoor space from the comfort of your own sauna. The overall design features gently rounded corners to help maximize the interior space, allowing the sauna to feel extra spacious. With two levels of seating, you can take advantage of the natural tiered temperatures within the sauna environment. Made in Canada with Western red cedar, the Luna Sauna offers a stunning and long-lasting addition to your home or cottage. Starting at $7400 and ranging in price upwards of $12000, these beautiful saunas are very large and can comfortably seat 6-8 people.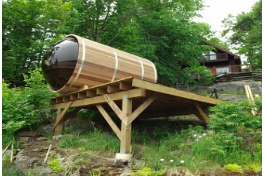 The panoramic view sauna is a new and exciting addition to the wide selection of available prefab sauna systems. Made from Western Red Cedar, the design includes an acrylic bubble back wall, allowing panoramic views of your surroundings. It is like the barrel design of a traditional sauna, with the added luxury of a back wall composed of acrylic to allow for stunning views. Whether you are looking for a sauna for your home or cottage, a panoramic barrel can add a tranquil addition to any outdoor living space. Prices range from $8000-$11000 and most designs can seat anywhere from 4-8 people.
The most popular sauna kit available, the LK-Plus is made of a strong, sturdy and long-lasting cedar with an overall design that is easy to assemble. The sauna kit is the "inside skin" of the sauna. The material goes inside your own stud framing. The Plus kit also includes the option to customize your sauna with a variety of additional options and extras. This includes luxuries such as backrests or L-benches in additional to the regular benches included in the kit. The LK-Plus kits range in affordable pricing between $2000-$5000.
7. LK-PRIME (sauna material liner kit)
This is an entry-level home sauna kit that is affordable and easy-to-assemble. An excellent option for anyone looking to add a tranquil addition to their home. The savings in the kit are offset by additional labour requirements in order to assemble the kit, which is an important consideration for anyone looking to build their own sauna. The finished product is still a beautiful sauna to add a tranquil space for relaxation in your home. These affordable kits begin at $2140 and range in price to over $5000 depending on the size.
An infrared sauna kit is an excellent option for anyone who desires an at-home sauna experience but is looking for a system that doesn't get as hot as traditional saunas. On average, an infrared sauna will reach temperatures of 48°C (118F), whereas a traditional sauna can reach upwards of 90°C (194F). In terms of design, our infrared sauna kits feature rectangular shapes in three different sizes, from small to large. An affordable and unique sauna experience, these infrared sauna kits range in price from $6000 to $8000.
An important additional note is that if you are looking for an infrared sauna simply due to the reduced temperatures, you may be interested in the Tylo Sense Combi. It is a heater with two distinct and unique modes. In dry mode, it operates like a traditional sauna, with a high heat and low humidity. In steaming mode, the Combi allows you to have reduced heat and increased humidity, broadening the available environments you can create in your at-home sauna. This has become a very popular option in individuals looking to further customize their sauna experience and is available for used in a variety of our sauna kits.
Shop for the best sauna kit at Saunafin!
When you are looking to unwind after a long day, having a home or backyard sauna can give you a tranquil space to escape and relax. At SaunaFin, we can help you find the perfect kit to build your own at-home sauna. Whether you are looking for a large or small design, indoor or outdoor system or infrared or traditional heating, there are kits available to fit every need. Each of our available kits additionally provides the opportunity to customize various components of the system, allowing you to have a truly unique sauna for your home or backyard. With prices starting at just over $2000, we have kits available for every budget.
To get started, call our expert team at 905-738-4017 (or if you are in the area, visit our store location in Concord, Ontario, where we have seven saunas on display). There's no better time than now to build the sauna of your dreams and enjoy it from the comfort of your own home.