How an Indoor Cabin Sauna Compares to Sauna Kit
Posted on 12 October 2023
Saunas are not just about sweat and warmth; they're a rejuvenating escape from the daily grind with wellness benefits like improved circulation, pain relief, detoxification, and more. With a home sauna, you can enjoy these sublime benefits anytime you desire. If you've decided to bring home an indoor sauna's warmth and comfort, choose a custom sauna kit or an easy-to-install prefab indoor cabin sauna. Let's explore the differences and advantages of selecting the best sauna for your space.
Prefab vs. Sauna Kit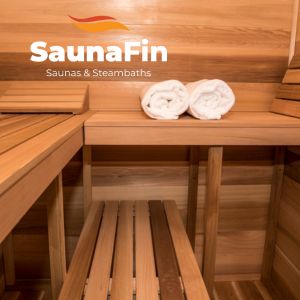 If you're craving the soothing embrace of a home sauna minus the installation hassle, prefab indoor cabin saunas are the way to go. These ready-made sauna retreats arrive at your doorstep with pre-assembled walls, benches, heating systems, and controls. You only need a suitable spot in your home, and you can have a hassle-free indoor or outdoor home sauna within a few hours!
In contrast, custom sauna kits offer the opportunity to design and create a personalized oasis. A sauna kit provides the flexibility to choose the size, style, wood type, and all the other components that go into your sauna. It's an excellent option if you have a specific vision for your home sauna or want to match it seamlessly with your existing décor.
Benefits of a Custom Sauna Kit
Custom sauna kits offer unparalleled personalization with the freedom to select the type of wood, layout, heating and control options. Choose from cedar, hemlock, or aspen, considering that the type of wood impacts the aesthetics and the aroma within the sauna. You can customize the layout and sauna size to fit your available space perfectly.
Custom sauna kits also give you control over the heating system. You can select the type of heater(electric or wood-burning) and choose the preferred control options for efficiency and energy savings. Whether you want a panoramic view through seamless glass doors, a unique bench configuration, or a dainty porch, a custom sauna kit can bring your dream sauna to life!
Benefits of an Indoor Cabin Sauna
While customized sauna kits offer high personalization, prefab indoor cabin saunas have their own advantages. These ready-made saunas are super easy to install–your stunning cabin sauna can be assembled in hours! The assembly process is straightforward, making it a perfect option for those who may not have advanced DIY skills. You save time and effort, and prefab indoor cabin saunas come with all the perks of the latest sauna technology. Digital controls, energy-efficient heating elements, efficient insulation, and customization options ensure a high-quality sauna experience. Lastly, your prefab cabin sauna is portable–you can dismantle and reassemble it elsewhere.
Customization Options for Prefab Saunas
While a prefab cabin sauna doesn't offer extensive customization, there are still many opportunities for personalization. You can select from various sauna sizes to fit your space and pick additional features like chromotherapy lighting, aromatherapy, or a sound system to enhance your sauna experience. Or add a cold plunge tub or an outdoor shower for an invigorating boost after your sauna session. These convenient options allow you to tailor your prefab sauna to your specific preferences.
Choose Your Dream Sauna with SaunaFin
The choice between a custom sauna kit and a prefab indoor cabin sauna ultimately depends on your priorities. When deciding between the two, consider your level of DIY expertise, aesthetic preferences, and the level of customization you desire. No matter your choice, a home sauna is an investment in your well-being. It's a daily escape to relaxation and rejuvenation you'll cherish for years. So, bring the soothing warmth of an exclusive SaunaFin sauna into your home. With over 60 years of sauna expertise, SaunaFin brings outstanding value, high quality, and exceptional customer service at prices you'll love!