What Can You Customize In Your Cedar Sauna
Posted on 30 September 2023
The ability to customize is a dream come true. Especially when it comes to more significant investments like a cedar sauna, you must get the best use out of it. Everyone has different needs for a sauna, like relieving muscle tension or simply having a space to relax and not worry about the outside world. As SaunaFiin, our customers have complete control of what they want their sauna to look like. From sauna kits to prefab saunas, like the barrel sauna, create your dream oasis after a long day's work.
Read on to explore the different ways you can customize your sauna.
Choosing your Wood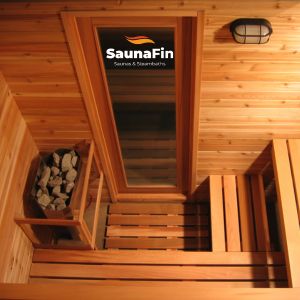 In the realm of cedar saunas, there are different types to choose from: clear and knotty Cedar. Though similar, they have other characteristics.
Clear Cedar: this wood was the original wood used for SaunaFin saunas and continues to be the best-selling material. Complete sets are provided for customers who choose clear Cedar (bench, door, framing, etc.)
Knotty Cedar: If you are looking for a cheaper alternative to Clear Cedar, knotty cedar is the best choice. It has all of Clear Cedar's characteristics but is significantly more affordable and gives a more rustic look. It also comes with a heater with SaunaFiin.
Cedar saunas can be indoor or outdoor, prefab or sauna kit, making your options endless. Barrel saunas, only outdoor prefab saunas, are made of cedar wood as they are the most durable material.
Sauna Heaters
The sauna heater is a crucial part of a sauna. Without it, it would simply just be another room in your home. When choosing the sauna heater for your sauna, keeping a few things in mind is beneficial. Remember the amount of space you have allocated to your sauna heater. Depending on the space left in your sauna, you may choose a smaller heater or a wall-mounted one for smaller areas. It's also beneficial to remember where you plan to put the controls. Sauna heater controls can come in the form of a dial, a touch screen, or no controls, simply an on and off switch. They vary in price, the dial coming as the default with no extra charge.
Accessories and Add-ons
There are minor ways to spice up your sauna to make it your own. Many indulge in using aromatherapy or different light fixtures to adjust the ambiance of their sauna. Whether you choose a dimmable or color-changing light, you can create variety in your relaxation space. Shop all sauna accessories with SaunaFiin to optimize comfort and relaxation. A more up-to-date sauna heater produces clean and safe air and allows users to shut off the heat supply often to save energy and money.
Design your Cedar Sauna with SaunaFin
For over 60 years in the industry, SaunaFin has provided saunas and steam baths to businesses and homeowners around North America. Create the optimal sauna for you with accessories, sound systems and more.
Contact SaunaFin today to start your journey to indulge in relaxation and take a break from your busy life.