Sauna Maintenance For Winter
Posted on 16 November 2021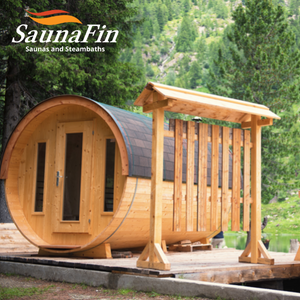 As you enjoy the luxury of your home sauna this winter, it's important to remember that it also needs maintenance. Whether you own an outdoor barrel sauna in Canada or have an indoor beauty, keeping it in good repair will make sure you can use your sauna for many years to come. While the superior quality saunas and sauna kits in Canada from SaunaFin promise a long-lasting unit, regular maintenance and a bit of TLC in winter will keep your sauna working flawlessly! Read on for some essential sauna maintenance tips for winter.
Indoor Sauna Maintenance
An indoor sauna is probably the easiest to maintain as it doesn't require any protection from the elements. Basic maintenance routine should include:
Cleaning the door glass with a glass cleaner
Vacuuming the sauna periodically to get rid of dust and debris.
Clean the interior using a mild cleaner or solution of baking soda and water. Use a soft cloth to wipe clean dirt or perspiration spots.
Sweaty feet can leave the floor stinky over time. Mop the floor or wipe down with a damp cloth periodically. You can also mop the floor with a liquid deodorizer every few months.
Thankfully, the sauna heater requires little maintenance. Just clean or vacuum the stainless steel exterior of the heater for dust.
Every six months or once a year, use fine sandpaper to clean the benches and rub out any stains. When sanding, cover the sauna heater with a plastic sheet to protect it from fine dust and vacuum afterwards.
Take care never to varnish the sauna interiors as it can lead to toxic fumes and breathing difficulties.
Outdoor Sauna Maintenance
Your outdoor cedar, luna, or barrel sauna in Canada is built with premium-quality durable materials to withstand exposure to sun, rain, wind, snow, and other elements. The popular and trendy DIY sauna kits in Canada by SaunaFin are made of sturdy western cedar that weathers well for years. You can further extend the life of your sauna by:
Vacuuming out any tracked-in leaves, dust, and dirt after every few uses.
We recommend washing or rinsing the feet before using an outdoor sauna. This prevents the build-up of sweat, dirt, or mold.
If you have a barrel sauna in Canada, check the staves to see they are snug. Tighten any loose fittings; you can add extra staves to make sure the exterior is sealed tight.
Every 2-3 months, check your outdoor sauna for possible water seepage.
Wash the sauna exterior with low-pressure
Sitting on a towel during your sauna bath will reduce the possibility of sweat-stains on the wood.
Though we use wood that ages well, you can use a UV inhibitor stain on the exterior to minimize the effect of harsh sunlight. As mentioned earlier, never stain the interior of your sauna!
A wood-fired sauna heater would require regular cleaning of the glass and other surfaces to remove soot and grime. Clean the exterior to protect it from outdoor weather conditions.
Though sauna stones are meant to last, they can develop cracks over time. Check your sauna stones for any damage every 6-8 months.
Proper Sauna Insulation For Winter
Winter is just around the corner, and your outdoor sauna unit needs to be insulated for optimal use. The proper insulation prevents heat from escaping from your sauna. This will keep your outdoor sauna heated for a longer time and help save on your energy costs. You can opt for fibre-glass insulation with an additional aluminum foil vapour barrier for optimum results. Insulation material can be sourced easily from any local hardware store to insulate the walls and ceiling of your sauna.
All-Weather After Use Care for Both Outdoor & Indoor Saunas
Taking a few minutes to quickly maintain your sauna after every few uses will go a long way to keep it in mint condition! Do:
Wipe clean the benches with a soft, damp cloth(or a brush) and a mild cleaning solution.
Vacuum any dust or debris.
Leave the sauna door open for some time for air circulation. This also helps dry the walls and benches.
Rest, relax, and rejuvenate with a barrel sauna in Canada from the experts at SaunaFin!
With the easy to assemble SaunaFin sauna kits in Canada, you can now enjoy spa-like luxury and health in the comfort of your home! Don't stress about maintenance; just follow the above tips to keep your sauna fresh, inviting, and enjoyable. Reach out to our friendly team at SaunaFIn for additional queries, tips and tricks on home sauna maintenance!