Are Steam Showers Worth It?
Buying a steam shower in Canada can be a big decision for any homeowner. Many people are not sure if buying a Steamist shower will be worth it for their family. At SaunaFin, our Steamist steam shower systems are customizable to fit your individual needs. With plenty of available upgrades, easy installation, and a range of host benefits, purchasing a steam shower is a no brainer. Here is some important information to consider before purchasing your new steam shower.
The Installation Process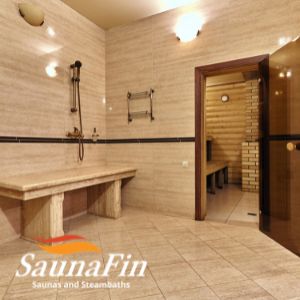 Although it can seem daunting at first, installing a steam shower in Canada is a straightforward and simple process. With the help of professionals like plumbers and electricians, you can install a Steamist steam shower in no time. You can even install many of the steam showers available through SaunaFin directly into an existing shower stall or bathroom. Depending on the size of steam shower and your existing bathroom layout, it can take as little as one day to install a brand new Steamist system.
The only tough decision is determining the extra bells and whistles you want included in your steam shower system. At SaunaFin, the Steamist system is fully customizable and can include Bluetooth-enabled speakers, mood lighting, and aromatherapy. Each luxurious add-on can help you make your steam shower experience one-of-a-kind. Whether you want to wake up feeling invigorated and excited for the day ahead or try to relax and unwind after a long day at work, you can customize your steam shower settings to match your mood and preferences.
The Average Costs Of Steam Showers
Depending on if you install the steam shower into an existing shower or design a new enclosure, your overall costs will vary. A simple rule of thumb is that a steam shower will cost about 25% more than a standard shower enclosure. The increase in cost will encompass the steam generator, waterproofing, and the creation of a water-tight seal.
If you are simply installing a steam generator into an existing shower enclosure, most generators start at about $1,500. A steam shower is a relatively inexpensive upgrade to a master bathroom or home gym that provides a touch of luxury to your everyday routine.
Do Steam Showers Benefit Your Health?
Purchasing a steam shower is a great investment in your mental and physical health. Steam and hydrotherapy reduce symptoms associated with allergies and asthma and help to open the airways and clear the sinuses. Steam can also help to reduce muscle aches and pains and improve recovery following a workout. Many homeowners also find regular steam shower use helps them maintain their stress and anxiety and invest in their mental wellbeing.
At SaunaFin, our Steamist steam shower system includes plenty of options to customize your experience. From mood lighting to aromatherapy, your at-home steam shower will provide you and your family with plenty of ways to improve your physical and mental health. With a Steamist steam shower, a simple upgrade to your existing bathroom will transform your everyday experience. Contact the SaunaFin team today to learn more about their modular steam shower system and the installation process.