Everything You Need to Know About Steam Baths
If you have ever been to a gym or spa, you likely experienced first-hand the relaxing and luxurious environment of a steam shower or room. Many people do not realize it's easy and inexpensive to install a home steam bath in your bathroom. A few minor changes are all you need to retrofit most shower stalls into steam baths. If you enjoy a steam experience, you can save time and money by installing a new home steam bath in as little as one day. Here is everything you need to get started building a custom Steamist steam shower.
Shower Stall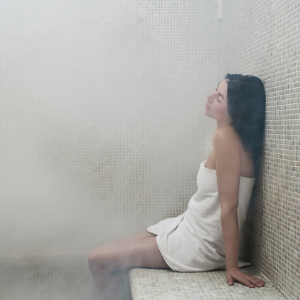 An essential part of steam baths is the shower stall or steam room. A sealed stall will help keep steam inside the room, allow the stall to heat up faster, and prevent water damage. Upgrade your shower stall into a steam bath by retrofitting it with a steam generator and control system. If you do not have a shower stall, you can always purchase a basic model and upgrade it to a steam system. Alternatively, depending on your budget and the size of your master bathroom, you can turn an entire room into a steam bath with seating and multiple steam heads! The choice is up to you and your personal preferences. You will want a watertight door and enclosure as well as non-porous surfaces such as tile.
Steam Generator
Most people worry about a steam generator taking up lots of space in their bathroom. Installation of a steam generator can be up to 60 feet away from the actual shower. By installing outside of the bathroom, you will continue to have plenty of space while operating the shower from afar. Most systems are compact, and installation can occur in a closet or other small area. This system will generate the steam for your home steam bath and help you save water during shower sessions. A 20 minutes steam session uses approximately 2 gallons of water!
Control System
Depending on the type of steam shower you install, your control system will allow you to operate the shower and even save personal profiles to help you create the perfect steam session in no time. Thanks to remote operation, you can now return home from work or a workout to an already warm and relaxing steam shower.
Bells & Whistles
Most steam baths include upgrades to feature additional accessories like Bluetooth-enabled speakers, aromatherapy, or mood lighting systems. Bring the spa home with you by integrating other features into your steam session for a holistic experience.
At SaunaFin, we sell a variety of steam baths for home use. Our systems can be installed into an existing shower stall or customized to retrofit an entire steam room. With plenty of ways to customize your home steam bath, you can create a one-of-a-kind steam shower experience for you and your loved ones. Call 905-738-4017 to learn more about SaunaFin's home steam bath models and get started ordering your kit.