Set Your Mood with AudioSense by Steamist
Posted on 17 February 2020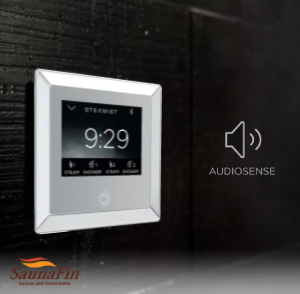 If you're like most people, you probably struggle to get out of bed in the morning. Everyday you wake up to the sound of your alarm and dread having to leave the comfort of your nice, cozy cocoon. It is often excruciating to peel back the covers and get ready for another long day at work. No matter how your morning begins, it is always important to start your day on the right foot. If you aren't a morning person, there are lots of ways you can help yourself get motivated to get out of bed. One of the best ways to wake up in the morning is in your own personal Steamist shower. In this blog post, we'll talk about the Steamist steam shower and the AudioSense Bluetooth addition that allows you to enjoy the music you love in your own personal oasis.
Benefits of Shower Music with AudioSense
One of the many benefits of adding music into your shower experience is the ability to truly make it your own. Select songs based on the mood you are feeling or the mood you are hoping to achieve for the day ahead. Maybe choose an upbeat pop song to help you get excited for the day ahead! Or choose a mellow song if you are looking to take a moment to relax before a busy day. If you shower in the evening, music can help you unwind after the stress of a long workday. No matter what music you enjoy, the AudioSense system will help you make the steam shower experience unique and special. AudioSense makes it easy to sing along to your favourite songs while enjoying your daily shower.
The AudioSense by Steamist system incorporates two "invisible" speakers which are designed to mount out of sight and transmit sound through the walls of your shower. You can also choose more traditional speakers that are exposed if you prefer to be able to see the sound system. The AudioSense technology allows you to access your favourite music and audio programs from any computer, phone or tablet that is Bluetooth-enabled. With this built-in sound system, your steam shower will be able to take full advantage of the high-quality acoustics of most bathrooms. Whether you want to wake up and listen to the news via your favourite radio app, put on an upbeat playlist, catch up on your favourite podcast or set the mood for a date night in, the AudioSense system allows you to be immersed in your favourite audio programs from the comfort of your steam shower.
The Steamist series of steam showers includes the option to add other luxurious extras to amplify the steam experience. The ChromaSense lighting system utilizes colour to set the mood for your steam shower. Choose from six possible settings including: Soulful, Bliss, Relax, Creative, Energize or Harmony. The AromaSense system then allows you to introduce aromatherapy into your steam shower. Utilizing pure essential oils, the AromaSense system includes five unique scents: Energize, Restore, Renew, Relax and Respiratory. Each of these systems can then be combined in your steam shower to create a total body experience that is entirely unique to your preferences. Set the lighting, scent and music to suit your needs, whether you are looking to wake-up in the morning, relax at the end of the day or reconnect with your significant other. Most of the Steamist technologies can be added into your existing shower or can be combined into a dedicated steam room to enhance your overall experience.
If you are interested in a steam shower for your home or cottage, SaunaFin can help with everything from purchase to installation. SaunaFin provides delivery and installation for all steam showers to Toronto and the Greater Toronto Area, as well as shipping throughout Canada and the USA. The SaunaFin team are experts when it comes to at-home wellness and are happy to help with any element of your Steamist steam shower. Whether you are looking to install the AudioSense system or any of the other Steamist products, we can help install them into your existing shower or into a new steam shower. At SaunaFin we pride ourselves in the quality of our materials and a commitment to customer service to provide you with the best experience possible. To purchase and install your new steam shower, contact our team today at 905-738-4017 or visit us in Concord, Ontario. Make 2020 the year you invest in your health and wellbeing with a new steam shower by Steamist!