Steam Bath your way to Beautiful Hair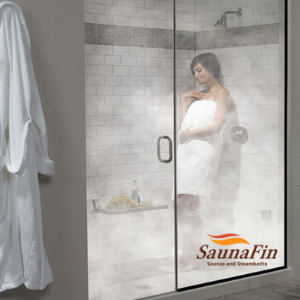 The results are in, and there are definite benefits of steam baths for your hair. Imagine well-hydrated, conditioned locks without expensive or damaging treatments. Who doesn't love a great head of hair? Did you know steam can help nourish, rejuvenate, and repair damaged hair? Moisture helps the skin on your scalp feel renewed. SaunaFin has the top steam showers in Canada. Selling Steamist for over 25 years in Canada makes SaunaFin the leading distributor.
You cannot forget our harsh Canadian winters, and a steam shower is a perfect escape. Not only will it envelop you in wondrous heat, but it's also great for your hair. In our blog, we will outline just how at-home steam showers can help your hair. Reach out to our experts today to inquire about steam showers and the steamist series in Canada.
Deep Conditioning
Conditioning is effective for all hair types, promoting elasticity, improving texture, and enhancing shine while restoring your hair's natural oils. For colour-treated hair, steam showers are especially beneficial in avoiding coarse hair or split ends. Struggle with frizzy hair? Add a serum before you enjoy your steam shower, and come out with silky smooth hair.
Proper Hydration
Our sebaceous glands produce sebum, which naturally hydrates hair from root to tip. However, age and genetics can cause the hydration system to go haywire. The use of excessive products or drying tools will only cause more loss of hydration. Steam rooms have a humidity level of about 100 per cent which can restore some moisture to your dry and damaged locks.
Steam nourishes hair by opening pores
If you have a dry scalp, you will likely also have dry hair. A session in a steam room will open the pores of your skin and gently cleanse your scalp while clearing out impurities. Cleaning ducts and glands will rejuvenate hair follicles by stimulating the growth of sebum, a natural moisturizer. Sebum will form a barrier against damage.
Steam helps rejuvenate the scalp
Steam helps to open pores and increase circulation, including the circulation to your scalp. Skin circulation is increased, which helps rejuvenate hair follicles and your scalp. If you have thinning hair, regular steam showers could help. While steam won't prevent baldness, it can rehabilitate the scalp and improve the overall integrity of your hair.
Steam helps repair and nourish damaged hair.
The purifying effects of opening and cleansing pores work with improved scalp circulation will repair hair that free radicals or other airborne toxins have harmed. Hair is keratinous, and by restoring these protein and hydrogen bonds, your locks retain more healing nutrients and hydration. Steam will increase hair porousness and collagen, leaving you with full-bodied gorgeous hair.
There are other ways steam showers can help your skin and hair; a relaxed body is not the only benefit. To find out more, contact our experts at SaunaFin. We are well equipped to answer any of your sauna and steam shower related questions. Start reaping the benefits of a SaunaFin sauna today and get in touch with our team!