The Best Home Sauna Accessories Gifts
Posted on 04 February 2022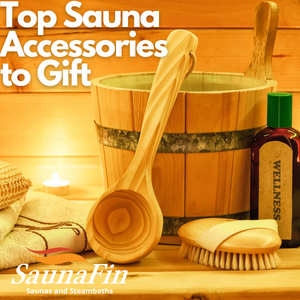 Are you looking for a great Valentine's Day gift idea for someone special in your life? Are you looking for the perfect housewarming present for your friends or relatives? Or perhaps you're just looking for an amazing Christmas gift for yourself. No matter the occasion, the experts at Saunafin have scoured the Internet to find out what are the best sauna accessories and home sauna goods available. Whether you're looking to buy a quality gift or treat yourself, we have found some amazing sauna accessories and sauna products that will go perfect the next time you use your Dundalk Leisurecraft sauna.
Here are some tips to help you pick the best sauna accessories:
1. Timer clock
You should choose a timer clock that has an integrated thermostat to control the temperature of your sauna. This will ensure that the temperature remains stable even when you are not there. You can adjust it using your smartphone as well.
2. Sauna scents
There are many kinds of scents available in the market today. You can choose the ones that smell good and are compatible with your body's chemistry.
Types of sauna scents
Aromatic herbs: Herbs like juniper, rosemary, and bay are used to make sachets for the sauna.
Woods and resins: Woods like cedar are used for making wood ash for heating up your sauna. Resins like amber and frankincense are used to make incense sticks. These are also called aromatic wood for sauna use.
3. Exfoliating Sauna/Steambath Mitts
These are large mitts, usually synthetic or wool lined. Fill with coarse bath salts for scrubbing goodness.
4. Sauna pillows
Why not give the gift of relaxation as they sit in their favourite safe haven? Sauna pillows are a great way to pamper that special person in your life. Their saunas will become even more special when they sit back and relax on a comfortable, custom-fit pillow. With the right accessories, the right person can be truly pampered. The Sauna Pillow is an excellent gift because it allows you to fully relax and unwind. In today's world, we don't often get a chance to relax now; it's easier than ever with the Sauna Pillow.
5. Aromatherapy Oils For The Sauna
Did you know there are oils specifically designed to be used in Dundalk Leisure Craft Saunas and other saunas alike? Sauna essential oils are not only for beautiful aromatic fragrances. These oils also serve as disinfectants, kill bacteria, improve blood circulation and help clear up any sinus congestion or respiratory issues.
TIP: Eucalyptus oil is a popular choice as a gift because of the medicinal properties of this serum. It is known to relax muscles, clear sinuses, and improve respiratory function. Eucalyptus essential oils are also known to reduce stress and anxiety. If you are looking for a gift that will help relieve stress, this is an excellent choice.
There are so many different types of sauna accessories available today. With advancements in technology, we now have a variety of home sauna accessories that make the whole sauna experience even more refined and luxurious. Check out our sauna accessories available on our website today or contact us to inquire about purchasing a home sauna!