Why Gift A Steam Bath This Holiday Season
Posted on 22 December 2022
From warm and steamy sensations to pure relaxation and stress reduction, steam baths are a great way to relax and cater to anyone's self-care needs during the added stress of the holiday season. If you are still deciding what to get that person who has everything for the holidays, gifting them a steam generator for their shower shows that you genuinely care about their long-term health and well-being. At SaunaFin, we offer the Steamist SMP Series or the ES Easy Steam with various customizations available. Give the gift of wellness and relaxation that can be used all year; reach out to our experts at SaunaFin today to learn more about steam baths and steam generators for showers.
Continue reading to find out why you should gift a steam bath this holiday season.
Give the Gift of Relaxation and Self-Care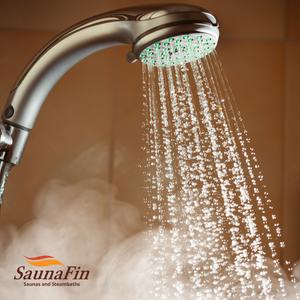 As humans, unfortunately, we cannot hibernate the winter months away. It will be dark when you wake up and start to get dark again while you are still at work. The temperatures in Canada will reach much below freezing in some areas. Stress, melancholy, and seasonal changes affect most people. Imagine receiving the gift of a steam generator– you can use it daily to melt into your own paradise. The luxury of a spa-like steam bath or shower in your home is a game-changer. Give them a gift they will never forget and enjoy for years. Having sold Steamist for 25 years, SaunaFin is the largest Steamist distributor in Canada. ES Easy steam is the best choice for a no-frills, steamy experience. If you would like any of the customizations mentioned above, opt for the SMP or TSG model.
Endless Customization Options
Take your steam bathing or showering experience to the next level with some of our customization options.
ShowerSense: With ShowerSense, you enjoy steam therapy while controling up to three shower heads using your steam control.
AudioSense: Connect to Bluetooth to enable your sound system with in-shower controls. You can sync it to your Spotify or Apple Music account, iHeart Music, and Pandora.
AromaSense: Aromatherapy has been around for centuries and has outstanding benefits. Known to have some remarkable therapeutic powers, AromaSense adds 100% undiluted essential oils to your steam shower. Choose a calming scent, like lavender or eucalyptus to relax and put your mind at ease.
ChromaSense: Colour therapy is also known for its therapeutic properties and lets you turn on a spectrum of six steam shower lighting effects. Indulge in one of our six colour effects: soulful, bliss, relax, creative, energize, and harmony, depending on your mood and goals.
Why Gift a Steam Bath from SaunaFin
At-home steam therapy has never been easier to give as a gift. When choosing the perfect steam bath or shower model, reach out to our team at SaunaFin. With cost-effective prices and various customization options, you can never go wrong with giving the gift of a steam bath this holiday season. Watch them light up when they receive your thoughtful gift of convenient, at-home steam therapy. A steam bath or shower is a gift that is certain to be a hit with anyone on your holiday list, or maybe it is time for you to consider gifting one to yourself.