Building a Sauna from scratch?
GET A CUSTOMIZED MATERIAL KIT QUOTE?
Call Us Today!
1-800-387-7029
or local: 905-738-4017
We accept: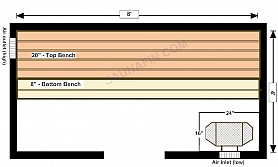 4x8 Plus
---
4 x 8 Sauna Layout Examples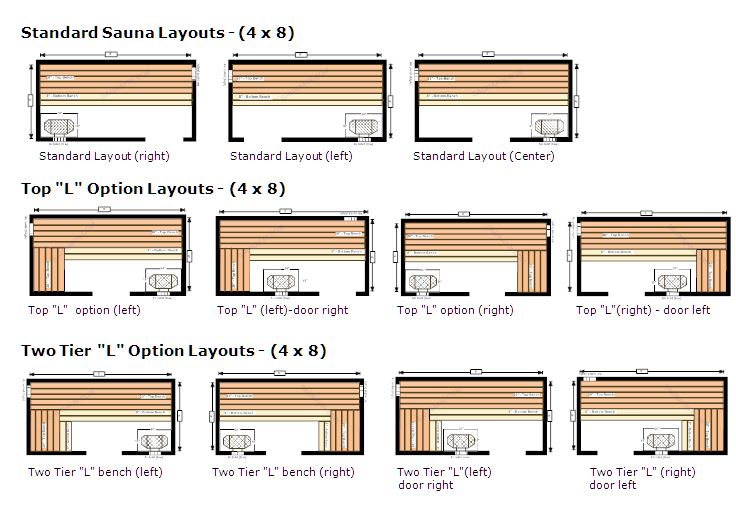 ---
starting at:
$6325.00
customize
Customize your 4x8 Plus
Heaters
Sauna Benches & Layouts
Cedar Direction on Ceiling
Doors
Designer Features
Sauna Accessories
Lighting Options
LK-(2x4 bench tops) INCLUDES:

Standard Layouts (4x8)

Common Sauna Layouts

Construction Manuals

Tylo Features

Combi Steaming Heater

Sauna Craft Features

Kits: Prime vs Plus vs Premium
LK-(2X4 Bench Top) Kits Include:
Benches:

2X4 CLEAR CEDAR bench tops.
Bench supports are wall cleats and 2x4 floor supports.

Door:

Frameless glass Door. Pre-hung on jamb
Optional upgrade to any other door styles offered.


All Kits Include:
Vapour Barrier:

Foil vapour barrier. Adds insulation value because of heat reflective qualities.

Lining:

LK Plus: 1 x 4 (11/16") tongue & groove (T&G), "CLEAR" grade Western red cedar for walls and ceiling.

LK Knotty (2x4): 1 x 4 (11/16") tongue & groove (T&G), "KNOTTY (STK)" grade Western red cedar for walls and ceiling.

(Saunas up 8' are lined horizontally and have no seams. Saunas over 8' line vertically and may require seams).

Heater:

Includes our Standard model Sauna Craft CWM Model Heater (sized according to room size).
Optional upgrade to any other of our Sauna Craft or Tylo brand sauna heaters.

Control:

Includes our Standard model Sauna Craft TPT3 Model Mechanical Control.

Light:

Vapour proof marine light fixture.

Heater Guard:

2 x 2 vertical posts with 1 x 3 rails.

Trim:

Cedar Corner molding for walls and ceiling.

Casing:

1x3 cedar casing for door interior. (Optional additional casing for exterior of door.)

Vent:

Cedar slide vent for outlet.

Fasteners:

Galvanized finishing nails for T&G lining.
Treated screws for benches.

Door:
Standard: Frameless door Rough Opening: 27-1/2" x 76-1/2"
Optional: Cedar framed door style Rough Opening 26" x 76-1/2"
---
Notes & Specifications:
Standard sauna height is 83½".
Kits up to 8' x 8' are lined horizontally (unless otherwise noted).
Unless otherwise specified, the door is located somewhere on the long wall and cedar on the ceiling runs the shortest span.
Standard two tier benches on long, back wall opposite door. Bench depths: Top = 20"; Bottom = 16" (for saunas under 5' deep, bottom bench is 8").
Note Re: material length:
Cedar lining materials come to you 1/4" below the foot.
For example: a 5' x 7' kit includes boards that are 593/4" and 833/4". You can stretch your framing 1, so 61" x 85" is OK. But any longer means you will be short. You either need to go to next size of sauna or strap the walls to reduce slightly.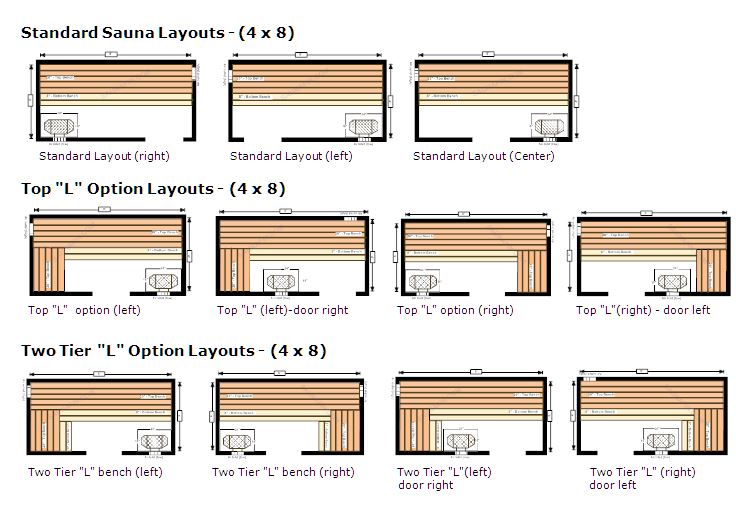 Construction Details
Click to view installation manual for your selected sauna kit:
"Knotty Cedar Kits"
"Hemlock Kits"
"Architectural Specifications"
Note: Below are merely short form instructions for your consideration. The material kit will come with a full manual including detailed drawings.
YOU SUPPLY:
Framing
Use 2 x 4 construction grade spruce studs to frame the walls and ceiling. If the ceiling span is over 10', use 2 x 6 studs. Unless otherwise specified, for saunas up to 8' x 8', the walls are LINED HORIZONTALLY and FRAMED VERTICALLY. Frame the walls at 16" on center. Frame or strap the ceiling to an inside height of 83-1/2". Frame the ceiling so that the cedar will run the shortest direction. Provide extra blocking for bench supports and heater.
Standard kit height 831/2". Most Saunas are 7' height or lower. Minimum height is generally 75" to 78" depending on heater model.
Maximum sauna height should never be higher than 8'. If you really want higher, we strongly urge being as close to 7' as you can, i.e. 7'-4" or 7'-6". (Extra cost for additional cedar.)
Strapping
For standard horizontal lining, strapping is not required.
If lining vertically, strap (1 x 2 spf) over the foil to change direction. Can be used to create air space, but it is not necessary.
Wiring
Electrical rough-in of heater, control and light should be done at this time. If using an outside control, the thermostat should be installed at this stage. (See heater specifications and control wiring diagrams for wire and breaker sizes.) Hook-up of the heater and light can be done after the sauna is completed.
Insulation
The space between the studs in the walls and ceiling is filled with 3-1/2", R-12 fiberglass insulation.
WE SUPPLY:
Vapour Barrier
Foil vapour barrier over the inside edge face of studs over the insulation.
Lining
Use the specified lengths of tongue and groove cedar (see "Material Packing List"). Depending on the actual inside finished size of your sauna, it may be necessary to trim these boards. Nail through the tongue only in order to conceal all nail heads (Blind nailing). Use the 11/2" nails supplied. Install the tongue and groove to the ceiling first. Start lining the walls at the floor and work your way up. The first board should be left about 1/2" off the floor. Cut the last board to fit.
Fasteners
Fasteners supplied are galvanized nails and treated deck screws. All fastening is to be blind nailed.
Benches
Depending on kit selected, there are clear 1 x 4 or 2 x 4 boards for bench top construction. Depending on the actual inside finished size of your sauna, it may be necessary to trim these boards. Before doing any fastening, select the boards to make sure the better face of the board comes out on the sitting surface. When building the benches, the better side will be face down as you are fastening from the bottom. This is so there are no nails or screws on the finished surface. Use the treated nails and screws supplied. If the sauna is 5' or more deep, the top bench is 20" deep and the bottom bench is 16" deep. If the sauna is 4' deep, the benches will be 20" & 8". Spacing between the bench boards should be about 9/16". (You can make gap smaller, but it will affect overall bench depth. You will have to adjust framing accordingly).
It is important to have two tier benches. the warmest air is closer ot ceiling. Sitting at a lower level, you will not feel the heat.
Door (door pictures)
Door Rough Opening.
Standard: Frameless door Rough Opening: 27-1/2" x 76-1/2"
Optional: Cedar framed door style Rough Opening 26" x 76-1/2"
ROUGH OPENING: If unsure which door you want we recommend going with the wider. You can always reduce and trim later.
Frameless glass door has jamb on four sides. And comes with detachable spacer for bottom which has channel for back up ventilation
With spacer, rough opening will be 27-1/2" x 76-1/2"
Cedar framed door with 16" x 64" insulated glass or Solid cedar door with smaller 12"x24" insulated glass.
All doors are Pre-hung on jamb.
Frameless Glass Door = 24" x 72". With bottom spacer, Rough Opening=271/2 x 761/2".)
Cedar Door Style. Size = 24" x 74". Standard Rough opening=26" x 761/2".
Larger and custom doors available (i.e Tall Door=24"x78", Commercial Door=28"x78", Handicap Access=36"x78")
SAUNA DOORS SHOULD OPENS OUT.
Heater
Sauna Craft CW- model heaters can be mounted in the corner or on a straight wall.
Tylo (& Saaku) Sauna Heaters are designed to mount on the straight wall.
Heater Guard
Use the 2 x 2 for the vertical posts and the 1 x 3 for the horizontal rails.
Floor (optional)
Use 1 x 4, square edge laid over 1x4 sleepers. Build as with benches with good face on walking surface. Top boards should be spaced approx. 5/8" apart. The sleepers should be placed at 1'-0" on center.
Other Considerations
Drainage
Commercial (public) saunas should have a drain in the center of the floor (sloped to the drain) to facilitate cleaning.
Most residential saunas have drains, but it is not essential. Water should only be used in moderation. (Our rule of thumb: If you are doing complete reno; i.e., breaking floors, new shower & bathroom, etc., we would suggest a sauna drain. If you are putting sauna in to an already finished area, it is likely not worth the cost to add a drain.
Tile
For residential, tile is attractive and functional; however, it is also acceptable to leave cement. If sauna is on upper level with wood sub-floor, there should be a rubber membrane, cement scratch coat and tile (like shower floor).
If floor is sloped to drain, mosaic tiles are best.
You may add a tile baseboard up the wall 2-3"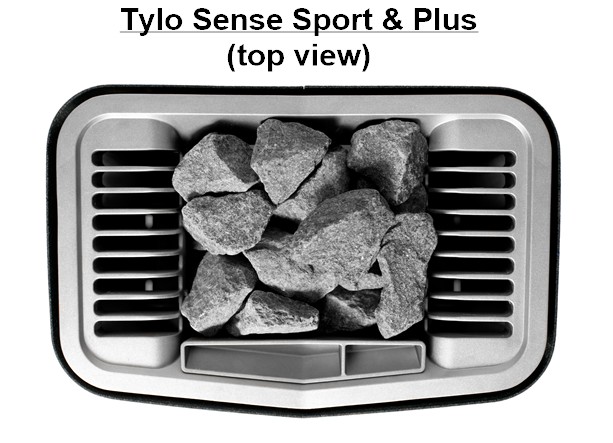 Tylo Sense models.
Sense Sport: Mechanical thermostat and Spring Timer at front bottom of heater.
Sense Plus-Pure: Low voltage separate control with light diodes.
Sense Plus-Elite: Low voltage separate control. Touch pad &WiFi (home network only)
Sense Combi-Pure: Separate steaming reservior.
Low voltage separate control with light diodes.
Sense Combi-Elite: Separate steaming reservoir. Low voltage separate control.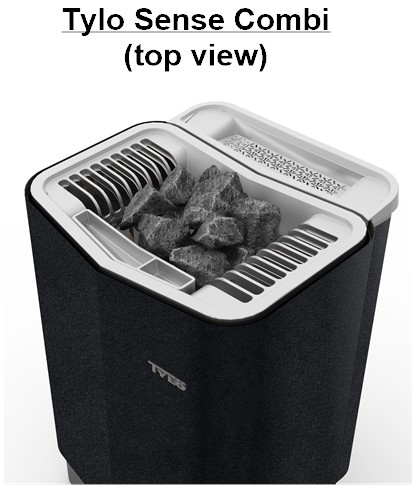 Touch pad &WiFi (home network only)

The heart of every sauna is the sauna heater.
Tylö sauna heaters are widely renowned and greatly respected for their high quality and distinct features - but not everyone knows all the reasons for this. That's why we'd like to take this opportunity to point out some of the most important benefits of the Tylö design and explain what this means for you. Read on to find out why the hottest range of sauna heaters on the market knocks all the others cold.
Safe to touch.
"Thermosafe" velvety covering ensures a low surface temperature - just 40°C on the front and sides of the heater.
Quickest heat-up time.
Twin side chambers maximize the through-flow of air, minimize heat-up time and economize on running costs.
No other sauna heater uses less energy.
The lowest energy consumption.
Test after test confirms that Tylö is the most energy-efficient sauna heater.
The most even bathing temperature.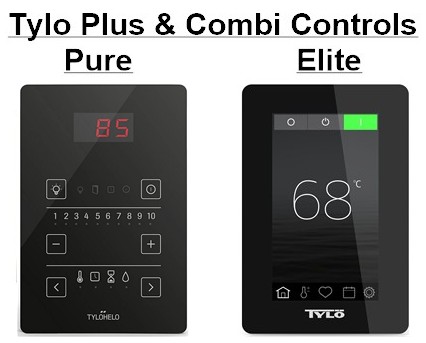 A divided output is the secret behind the constant bathing temperature and lower energy consumption of a Tylö heater. Divided output means the heaters elements cycle in stages. Other heaters go on/off, on/off, etc. causing a temperature swing. Tylo heaters maintain an overall higher and more consistent temperature.
The finest material quality.
Only Tylö has a solid-cast top, inner casing and stainless steel stone compartment.
The best heating elements.
Tylö is the only sauna manufacturer to produce its own heating elements - the very heart of every heater. High quality here is crucial for a long service life, and Tylö elements are widely regarded as unsurpassed.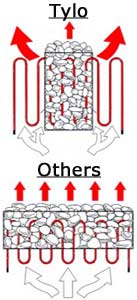 Optimum water sprinkling.
A deep generously proportioned stone compartment, and direct contact between the stones and the heating elements ensure perfect water sprinkling with 100% vaporization.
The right quantity of stones.
Tylö makes sure that the quantity of stones is perfectly matched to the output. Too many stones prolong heating-up times, leading to higher energy consumption and poorer steam generating performance. Tylö heaters are also the only ones on the market that can be used with or without stones.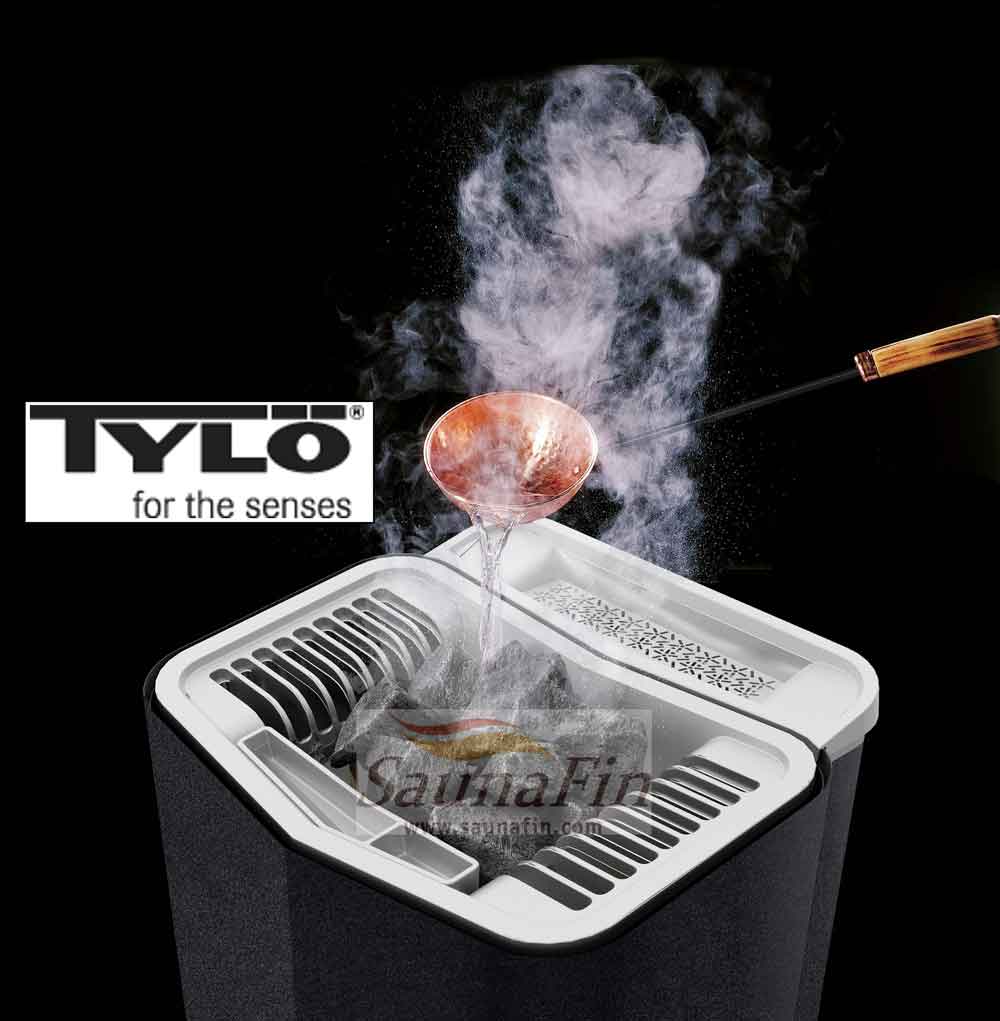 Built-in humidifier.
This unique Tylö feature further enhances your sauna bathing experiences.
Superior performance.
With a Tylö heater, you can enjoy a pleasant sauna, wet or dry, at whatever temperature you choose from 40-90°C (104-194°F).
Best in the test.
Time and time again Tylö has scored top marks in Finnish sauna tests. Tylö was first awarded the coveted 'Best in Test' accolade in competition with seven Finnish heaters in 1982. A test published in a Finnish magazine (Kuluttaja no. 5, 1995) confirmed that Tylö also has the quickest heating-up time and lowest energy consumption. A SEMKO test in April 1999 confirmed this result and also proved that the steam generating performance of Tylö heaters was unrivaled.
Combi (Soft Sauna)
Click for more info: Tylo Combi Steaming Sauna Heater Brochure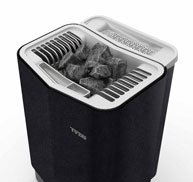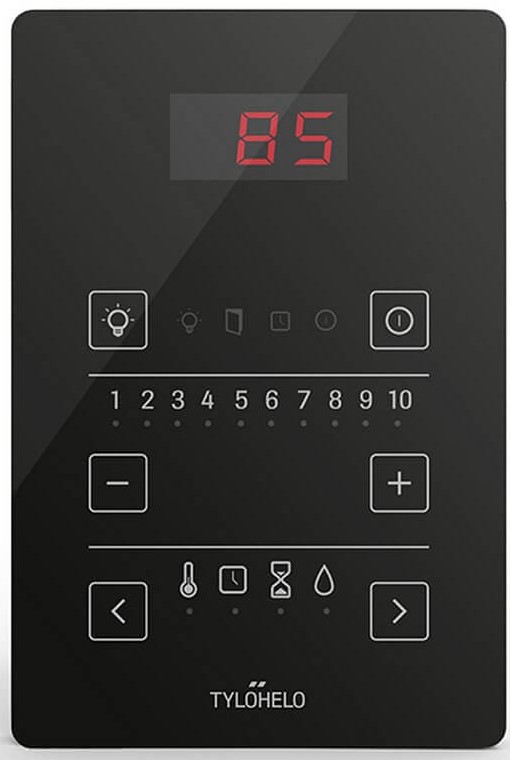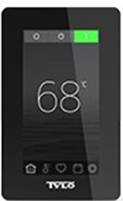 The Tylo Sense Combi is quite simply the most sophisticated sauna heater on the market - the only heater that lets you enjoy traditional or Soft Sauna in one and the same room. The choice is yours. We call it Soft Sauna.
A gentle way to share a pleasurable experience. It is just as much a way of life as it is a technical sensation, and yet it takes up just a few square meters of space in your home. Invite your friends and family, select a therapeutic essential oil, feel the warmth and gentle. Steam engulf you, and enjoy being together. Let Soft Sauna make an impression on your day.
What's Your Temperature?
Soft Sauna picks up where traditional saunas leave off. Some people prefer a hot and quick sauna, others like to linger in mild temperatures, enjoying the gentle steam and aromatic fragrances. Test for yourself which temperatures and options are ideal for you and your relaxing moment.
Imagine having a family home spa with the resources of a professional spa where you can relax together, exquisitely engulfed in steam and aromatic scents – and yet also be able to enjoy the relaxing dry heat of a traditional sauna. Choose the sauna cubicle and heater that suits you and the way you want your moment to be. A moment that stretches on and beyond.

Double Your Enjoyment
The Combi is like having two saunas in one. In dry mode, it operates like a typical sauna - high heat, low humidity. In "soft sauna" or steam-sauna mode, it is an entirely different sensation. When you splash water on the rocks, you to get that blast of heat. Many of those who enjoy saunas love that sensation. Others find it a bit too intense. When you slow boil the water, you soften the heat. It takes the edge off. The Combi broadens the appeal of saunas. Those who have historically not like saunas really enjoy it. And old fashioned sauna enthusiast love it even more. You can still splash water on the rocks in steam mode to get that wave of extra heat. The Sense Combi is a true hybrid. Two distinct sauna experiences in one and the same room.
Can I Have Steam In a Cedar Room?
The Combi produces steam and the sauna is more humid that a typical sauna, but it does not generate steambath levels of steam. It is not a Turkish bath. You will see steam rising off the heater and you will feel the difference, but the walls do not get wet. And once the Combi has completed its steam cycle, the sauna portion comes on high for 20 minutes to help bake the room dry.
Click for more info: Tylo Combi Steaming Sauna Heater Brochure

(for saunas up to 450 cubic feet)
(4kW to 9kW) (Exterior Controls)
CW Wall Hung - Wall or Corner mounted
Stainless Steel (304) shell and inner baffles
CWM:

100% Stainless Steal.

CW-XR:

100% Stainless Steal.
Deep Rock Compartment
Extended Warranty
Warranty
| | |
| --- | --- |
| CWS/CWM: | Residential Warranty: 5 years. |
| Commercial Warranty: | 1 year |
| CW-XR: Residential Warranty: | Lifetime. |
| Commercial Warranty: | 3 year |




(for saunas over 450 cubic feet)


(12kW to 18kW)
FM Floor Standing (Exterior Controls)
Stainless Steel (304) shell and inner baffles
FM:

100% Stainless Steal.

FM-XR:

100% Stainless Steal.
Deep Rock Compartment
Extended Warranty
Warranty
| | |
| --- | --- |
| CWS/CWM: | Residential Warranty: 5 years. |
| Commercial Warranty: | 1 year |
| CW-XR: Residential Warranty: | Lifetime. |
| Commercial Warranty: | 3 year |
XR Model Heaters - Deep Rock Basket
CW-XR and FM-XR have deep mesh rock basket
Vertical column of rocks and better vaporization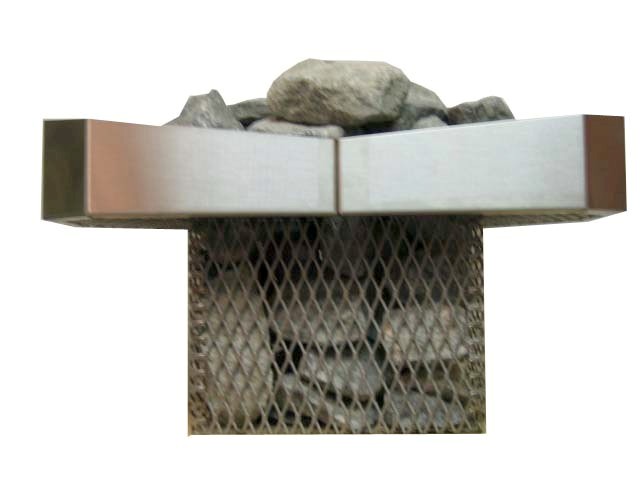 Comparing All Three Sauna Material Kits
Which is Best for You?
LK Prime-C: (11/16"; Clear, Seamed (1',2' & 3' t&g for wall/ceiling lining)
The most economical because of knotty or seamed clear cedar lining and the thinner bench material. Ideal for the price conscious do-it-yourselfer.
Note for building contractor or homeowner buying kit for their builder. Seams and Benches take longer to build, so material savings is largely offset by increased labor costs.

LK Plus: (11/16" Clear t & g wall/ceiling lining)
This is the most popular package. 11/16" Clear Western red cedar lining and strong, sturdy 2x4 bench tops and supports that are quicker to assemble and have a very substantial look and feel.
The LK Plus starts you off with a first-rate, high quality sauna and lets you pick and choose the options and extras that appeal to you.
(Note: Some pass off 5/8 cedar as 11/16. Ours is a true 11/16".)

LK Premium: (11/16" Clear t & g wall/ceiling lining)
Starts as an LK Plus, but adds a lot of the most popular designer features and options at preferential prices.
LK Premium includes bench skirt, designer backrest, and Sauna Craft XR heater and EL-13 Electronic control.
It also includes accessory pack #1 (bucket, dipper, thermometer) light shade cover and exterior casing.
LK Premium is popular with customers who like all the included upgrades. The better price is a nice bonus.
On the other hand, it you like some of the other features, but not all, then you are usually better off selecting an LK Plus and adding the options upgrades you prefer.
Overview

LK-Prime-C




Seamed Clear cedar shorts




Sauna Craft CW-M w/ TPT3 Control

1x4 bench tops

2 x 2 supports
Insulated door glass

LK-Plus
OUR MOST POPULAR


​Clear Cedar Lining (11/16")


Sauna Craft CW-M w/ TPT3 Control

2x4 bench tops

2 x 4 supports

Insulated door glass

LK-Premium


Clear Cedar Lining (11/16")
Includes many of our most popular options & upgrades

Sauna Craft CW-XR w/ EL-13 Control

2x4 bench tops

and supports

Insulated door glass

Upgraded Heater (CW-XR) & control (EL-13)

Designer features (Backrest, Bench skirt)

Accessories (bucket,dipper, thermometer, light shade)

Lining

11/16 Knotty or Seamed Clear

"true" 11/16 Thickness (Clear)

"true" 11/16 Thickness (Clear)

Lining
Full Lengths(no seams up to 8')
Horizontal Standard (up to 8'x8'). Vertical available as option
Furniture grade sanded finish
Kiln-dried to 9%
Benches

1x4 bench tops

2x4 wall cleats (hangers)

2x2 floor supports (as required)

2x4 bench tops

2x4 wall cleats

2x4 floor supports (as required)

2x4 bench tops

2x4 wall cleats

2x4 floor supports (as required)

L-Bench

Optional

Backrest

Optional

Optional

YES

Bench Skirt

N/A

Optional

Top Bench Riser

Door

Frameless Tempered Glass Door has long Designer handle.
Glass Door=24"x72". With bottom spacer, Rough Opening is 27-1/2" x 76-1/2"

Cedar framed doors with 16"x64" insulated tempered glass is optional.
Cedar Door=24"x74". Rough Opening is 26"x76-1/2"
(Some others don't mention their glass specification and don't even offer insulated glass)


All doors pre-hung to ease installation

Heater

Sauna Craft CW-M Model
100% surgical stainless steel frame & shell

Other heater options

Sauna Craft CW-M Model
100% surgical stainless steel frame & shell

Other heater options

Sauna Craft CW-XR Model
100% surgical stainless steel shell
Lifetime Residential warranty
Other heater options

Control

Built In
Other Sauna Craft & Tylo options

Sauna Craft TPT3
Other Sauna Craft & Tylo options

Sauna Craft EL-13 Electronic Control
Tylo Heater options
Floor Boards

Optional

Cedar Slide Vent

One slide vent

One slide vent

One slide vent, one fixed grill

Galvanized/Treated Fasteners

Yes

Yes

Yes

Foil

Yes

Light

Yes

Corner Molding

Yes

Yes

Yes

Cedar Casing

Inside

Inside

Two sides

Standard Accessories
(Bucket, dipper, thermometer)

Optional

Optional

Yes

Additional Accessories:
(Sand timer, headrest, Eucalyptus, towel wrap)

Optional

Optional

Light Shade