Advantages of Installing Home Sauna Kits: Which Should I Choose?
An at-home sauna brings all the health benefits of a spa-quality sauna experience into the comfort of your home. Many homeowners are interested in installing a sauna but are not sure where to begin. One of the easiest ways to install a new at-home sauna is with a Sauna Material Kit. These easy-to-use kits conveniently package all the parts and instructions you will need to install an at-home sauna. In this blog post, we will discuss some of the benefits of Sauna Material Kits and the most popular models available on the market.
The two main benefits of a Sauna Material Kit are its simplicity and affordability. A Sauna Material Kit includes all the parts and materials you will need to install your new at-home sauna. At SaunaFin, Sauna Material Kits are made with beautiful Canadian Western red cedar wood and kits can be customized to fit any design or shape. With easy-to-use instructions, the material kits make it easier than ever to install a custom-built sauna in your home or backyard.
Flexibility
The versatility of a Sauna Material Kit allows you to build a custom at-home sauna at a fraction of the cost of an "a la carte" build. These kits allow you to build a new sauna anywhere in your home without major renovations. Whether you are looking to install a sauna into your basement, bathroom or backyard, these kits make it easier than ever to bring the benefits of sauna use into your home.
Cost-Effective
In addition to simplifying the sauna building process, Sauna Material Kits are the most cost-effective way to build an at-home sauna. By packaging all the necessary materials into one convenient kit, you will be able to save hundreds or even thousands of dollars compared to building a sauna from scratch.
Quick Assembly
These kits can be built in no time. Usually, over the course of a single day, you will be able to install your new sauna and begin to enjoy its many benefits. With a kit you will save upwards of 8 hours on your installation time relative to building a sauna from scratch.
What's in the kit?
Inside your Sauna Material Kit, you will find everything you need to build your custom at-home sauna. This includes a foil vapour barrier, door casing, outlet vent, heater guard, vapor-proof lights, and sauna controls. The kit also includes a standard sauna heater made of 100% stainless steel, which can be upgraded based on your individual heater preferences. In addition, you will receive all Canadian Western red cedar wood planks for constructing the sauna walls, benches, and wall trimmings. Finally, the kit includes a door of frameless glass with a designer handle that is either clear or bronze. You will need to provide stud framing for the walls and ceiling as well as fiberglass insulation, wiring, and any exterior finishes.
Health Benefits of Home Saunas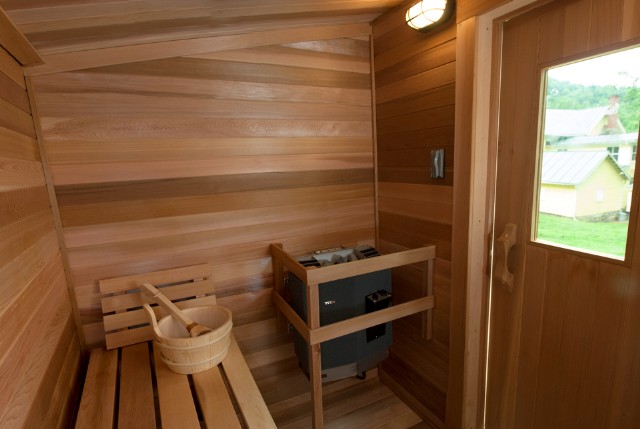 Saunas have been used by humans for thousands of years to support health and wellness. With an at-home sauna, you will be able to enjoy these health benefits from the comfort of your own home. Daily sauna use is best for gaining the most benefit from your sauna sessions. With an at-home sauna, it will be easier than ever to integrate sauna use into your daily workout or wellness routine.
When integrated into a workout routine, many athletes benefit from regular sauna use to ease muscle aches and pains. The sauna environment helps to naturally relax muscles and can improve recovery when combined with gentle stretching routines. Saunas also increase circulation to improve the flushing of lactic acid from the muscles.
Regular sauna use is associated with reduced stress and anxiety. The warm environment of a sauna naturally relaxes the body and mind, providing a safe, quiet space to escape your worries. When combined with meditation or mindfulness techniques, a sauna can be a great space to focus on your mental health, reduce your anxiety, and improve sleep.
The warm environment of a sauna is also able to naturally relieve congestion. Many people with chronic allergies, respiratory issues or frequent colds enjoy regular sauna use for relief of their symptoms.
SaunaFin's Best Sauna Kits
At SaunaFin we sell a variety of Sauna Material Kits to make it easier than ever to install your new at-home sauna. Here are a few of our most popular Sauna Material Kit models.
This is a popular introductory-level Sauna Material Kit for first-time sauna owners. The Cabin PreFab kit comes in both indoor and outdoor models depending on your personal preference. Canadian Western red cedar creates a durable sauna to last through years of use in your home or backyard. Eight available sizes include two tiers of benches for ample seating for you and your family. This simplified kit involves a log-style assembly that can be built in as little as 2-3 hours!
A traditional barrel sauna lets you whisk away to Scandinavia in the comfort of your own backyard. These kits are available in either Knotty or Clear Western red cedar and the final product easily seats upwards of 6 people.
This is one of the most popular and affordable Sauna Material Kits sold by SaunaFin. These kits include everything you will need for the interior of a sauna, making them easy to assemble inside of your home or within a shed or cabana in your backyard. Easily customize the kit to fit your heating and seating preferences.
At SaunaFin our expert team has over 50 years of experience helping our customers build their dream saunas. Our Sauna Material Kits make it easy and affordable to build a custom sauna in your home or backyard. With a range of sizes and designs, we have models to fit any home or budget. For more information on any of our kits, contact us today at 905-738-4017.