Guide to Choosing What to Wear While You Sauna
The primary goal of any sauna is to bring you relaxation and to enhance your emotional and physical wellbeing. Not to mention, one of the most significant benefits of using indoor pre-fab cabin saunas is that you have all the privacy in the world and can use it whenever you choose. However, one of the most asked questions regarding saunas is what to wear when using them. Whether enjoying your Dundalk leisure craft or using a public sauna, you should know what to wear to maximize your experience.
Read on to discover what you should and should not wear when using your sauna.
Bathing Suit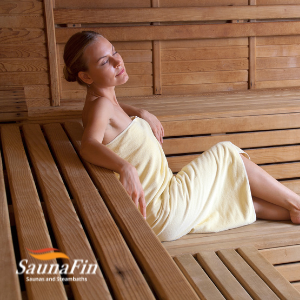 A bathing suit is a great option for those who want to wear minimal clothing and be comfortable. Although, the material you wear differs from how your body will react to the heat. Wearing a bathing suit in your Dundalk leisure craft or indoor sauna may seem the most practical way to enjoy your time in the sauna. Though this may be true, wearing a bathing suit with breathable fabric and no metal attachments is essential. If your swimsuit is made out of PVC fabrics, it will prevent your skin from breathing, and you will feel discomfort. In severe cases, there is a possibility that the fabrics can melt and give off toxic fumes and chemicals in the high sauna temperatures. It's recommended by the experts at SaunaFin to choose a loose-fitting swimsuit made from natural fibres. This permits better ventilation while using the sauna.
Towel
Whether using your indoor pre-fab cabin saunas or outdoor barrel sauna, a towel can be a comfortable cover-up. You may choose to undress and just wear your towel alone or wear clothing and use your towel to wipe off excess sweat. Finnish people believe that wearing just a towel around your waist is the best way to get the ultimate sauna experience. Cotton towels are a top choice as they can absorb your sweat, make you feel at ease, and are enough to shield bacteria from getting on the bench. No matter what, it is suggested to always sit on a towel to prevent sweat from going onto the seat.
Cotton
If you decide to wear clothing in the sauna, it is advised to wear loose-fitting cotton clothing for optimal breathability and comfort. Wearing clean, cotton clothing permits your skin to breathe freely and avoids bacteria. In addition, it's best to not wear tight clothing underneath your loose clothing items as it can be challenging to remove from your body after sauna use. Since it's crucial to always have something clean to sit on and wipe your sweat, we recommend bringing a towel with you at all times, even if you are wearing loose cotton clothing.
What to Avoid
When using a sauna in public places, you should be aware of other people, which means recognizing what you wear can affect others. When you go into the sauna with worn and dirty clothes, the heat will release dirt and dust into the air, ultimately decreasing the benefits of the sauna. Many folks get frustrated when others enter the sauna without showering beforehand or if they are wearing dirty gym clothes and outdoor shoes. Though it is not recommended to do these things, even in your sauna, the advantage of having your own at home is that you can wear whatever you want or nothing at all!
Metal Jewelry: Metal parts can get extremely hot and burn your skin.
Watches: Analog watches can burn your skin, and digital watches can overheat and malfunction.
Workout/Spandex Clothing: This doesn't allow for breathability, and the heat may melt these materials.
Dirty Clothing: It is unsanitary and doesn't let you reap the many benefits of the sauna.
Why Choose SaunaFin
SaunaFin is your best choice in North America for all things sauna related, with over 60 years of manufacturing saunas in Canada and the USA. With several different types of saunas with customizable sizes, shapes, upgrades and more, you can feel confident that you'll find the perfect sauna with us. Our high-quality materials and competitive prices set us apart from other competitors. Not to mention, we pride ourselves on the expertise and customer service we provide to all customers.
Call SaunaFin to install your dream sauna today!