How to Choose the Perfect Home Sauna in New York
No matter what your life is like, from the size of your home to the demands of your daily life, there's a home sauna in New York that's perfect for you. Choose between an indoor or outdoor sauna with customizable sizes, shapes, and extravagant upgrades. Whether you're out in the suburbs or in the center of the city, your own personal sauna will bring you the relaxation you need in a city that never sleeps. Trends are always coming and going, but saunas are classic. At SaunaFin, we offer a range of beautiful indoor, outdoor, and Dundalk saunas and steam showers destined to elevate the day-to-day.
Continue reading to find out how to choose the best sauna for your home.
Indoor/Outdoor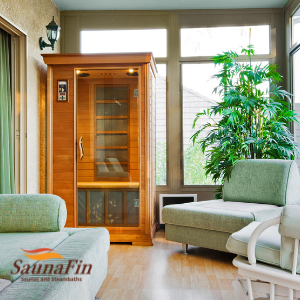 Some people are outdoorsy, others prefer to stay inside - which are you? At SaunaFin, we offer a wide range of indoor and outdoor saunas, so you can choose where you have your downtime. Perhaps you want a barrel or Dundalk sauna at your cottage after a long day of swimming or a pre-fab indoor sauna with a beautiful design to showcase in your home. Whatever the case, there are many options to choose from so that you can start reaping the benefits of a home sauna in New York.
Property Type
Depending on the size of your place, you can choose a sauna that best fits your home. Choose from different designs, including glass saunas or sauna wood stoves with many types of door options, including glass, frosted, and frameless. A sauna or steam generator can still be installed even if you live in a smaller home. You can also customize your sauna to have a two-in-one with a shower inside, having the best of both worlds.
A larger sauna, like outdoor barrel saunas, is the best bet if you have a larger home with many family members. Install your sauna outside with a view of your gorgeous backyard, or choose to install a pre-fab sauna in your master bedroom for added luxury. Regardless of where you put your sauna or your sauna goals, you can personalize a sauna just for you.
Daily Schedule
Workaholic? Steam showers and baths may be the answer to your problem. If you think you have no room in your schedule to find a sauna or don't have the time to install it yourself, a steam generator is a great alternative. Instead of installing a sauna for your home, you can now install a steam generator into your shower. Choose between an ES Easy Steam or Steamist SMP - both provide optimal tranquility.
ES Easy Steam: If you want complete peace and quiet and aren't a fan of extras like wifi and music, ES is the best option for you. Easy steam generators are for those looking for a high-quality, reliable steamer that will last for ages. The ES generator is American-made and has a ten-year warranty, so you can enjoy it for years to come without worry.
Steamist SMP: If you enjoy colorful LED lights, music, and upgrades, look no further than the Steamist generator. The SMP model comes with several options and possible add-ons so you can make it as personalized as possible.
The Steamist is also compatible with Total Sense Spa features, including AromaSense, ChromaSense, and AudioSense.
AromaSense: For aromatherapy-infused steam, you can relax while enjoying the scents of your chosen essential oil.
ChromaSense: LED lighting with multiple colors to choose from, providing you with beautiful, aesthetically pleasing lighting.
AudioSense: Enable your Bluetooth sound system to listen to your favorite music while you take time for yourself.
Choose SaunaFin in New York
SaunaFin is your top provider for saunas and steam baths in North America, with over 60 years of first-hand experience. We pride ourselves on our commitment to our customers, the quality of our material, and the competitive prices we offer.
Contact SaunaFin today to determine the best sauna or steam generator for you!