How to Optimize the Use of Your Home Sauna
Posted on 07 September 2023
Your home should be a soothing sanctuary where you can go to unwind and relax. If you've been dreaming of installing a home sauna, be it an indoor sauna kit or an outdoor sauna such as a classic cedar barrel sauna, you'll want to optimize your experience to get the most out of your experience. At SaunaFin, you can shop a vast selection of sauna products, heaters, and accessories to transform your space and lifestyle. Find a quality choice from the most trusted sauna supplier in the industry. From indoor cabin saunas and kits to barrel saunas and the Pure Cube sauna, SaunaFin has it all.
Learn how you can optimize the use of your home sauna with these tips.
Choose the Perfect Home Sauna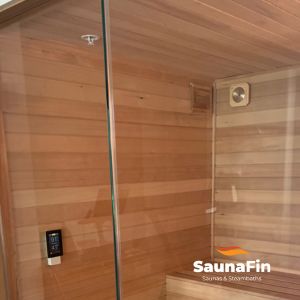 The first step in creating your own home sauna oasis is choosing the perfect sauna for your needs. SaunaFin offers a range of options, including indoor sauna kits, indoor cabin saunas, and outdoor prefab or barrel saunas. Each type of sauna offers its unique benefits.
Indoor Sauna Kit: Indoor sauna kits are a convenient way to convert a spare room or underused space into a rejuvenating sauna. They are a perfect choice if you want a dedicated indoor sauna experience.
Indoor Cabin Sauna: Indoor cabin saunas offer a classic sauna experience with a cozy and ambiance designed to be nestled into any home for those who appreciate a traditional sauna design and experience.
Outdoor Prefab Sauna: Outdoor saunas provide a unique and picturesque setting for your sauna sessions, perfect for homes and cottages, a customizable outdoor sauna allows you to enjoy the beauty of your surroundings while indulging in the relaxation of a sauna.
Choosing the right type of sauna depends on your preferences, space availability, and desired ambiance. SaunaFin provides various options to cater to your specific needs, ensuring convenience and the perfect sauna experience.
Maintain Temperature with a SaunaFin Thermometer
Maintaining the right temperature in your sauna is crucial for a comfortable and effective experience. SaunaFin offers high-quality thermometers that are specifically designed for all of our saunas. These thermometers help you monitor and adjust the temperature according to your preferences, ensuring that your sauna session is as enjoyable and beneficial as possible. With SaunaFin thermometers, you have complete control over your sauna environment.
Choose an Easy-to-Control Tylo Heater
A reliable sauna heater is at the core of every sauna experience. SaunaFin partners with Tylo, a trusted name in the sauna industry, to provide you with exceptional sauna heaters. Tylo heaters are known for their durability, efficiency, and ease of control. With precise temperature settings and a range of heating options, Tylo heaters make it effortless to create your desired sauna environment.
Add a Changing Room
To enhance your home sauna experience, consider adding a changing room adjacent to your sauna. This space can serve as a convenient area to store your robes, towels, and other sauna essentials. Available as an add-on with your prefab saunas, custom-built cedar change rooms make going to and from your sauna escape easier than ever.
Tips to Enhance Your Sauna Experience
To further enhance your sauna experience, consider incorporating a few key accessories and tips. First, having plush, comfortable robes readily available in your changing area adds an extra layer of relaxation. Robes are perfect for wrapping up in between sauna sessions and maintaining your comfort. Install hooks or hangers nearby to keep your robes, towels, and other essentials organized and easily accessible.
Staying hydrated is essential during sauna sessions, as you'll lose fluids through sweating. Be sure to have a water bottle or a refreshing beverage on hand. Sip water periodically to stay hydrated and ensure a comfortable experience. Additionally, preheat your sauna to your desired temperature before entering, allowing it to reach an inviting warmth that's ready to envelop you in soothing heat. These simple tips, along with SaunaFin's high-quality sauna solutions, will elevate your home sauna experience to a new level of comfort and enjoyment.
Elevate your relaxation experience with SaunaFin.
Find your perfect sauna online or contact our team today.