Discover the Different Types of Home Saunas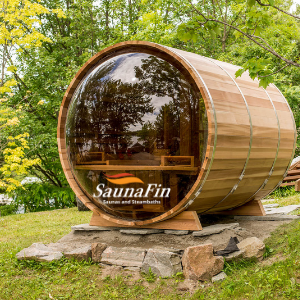 People have been enjoying saunas for over 2000 years. All professional health industries recognize the mental and physical benefits of regular sauna usage. The popular demand for sauna sessions has sparked innovation in the industry. Now it is easier than ever to enjoy regular sauna sessions thanks to the various home saunas to choose from. Please read our blog to learn more about the different home saunas offered at SaunaFin and the available accessory variations.
Various Features & Benefits of Home Saunas
Aside from the obvious bliss of spending some time in a sauna, there are multiple other features and benefits as well. How do you choose which sauna is the right one for you? Let the experts at SaunaFin help you decide-- reach out today and find out more information about cabin saunas, barrel saunas and electrically heated saunas versus wood-burning saunas. Cabin saunas have features and benefits that differ from a barrel sauna. Keep reading to discover the various features and benefits of each sauna.
Cabin Sauna
An infrared cabin sauna has heating elements that provide a lovely warmth, up to 60 degrees. Compared to other types of saunas, this is a relatively low temperature. Only in connection with the skin will infrared radiation transform into heat. Spontaneous use of your cabin sauna is more likely, given the short amount of time it takes to heat up.
Cabin saunas are being used more and more for health reasons:
A cabin sauna session is akin to a mild endurance sport. This is especially helpful for people who have mobility issues
Core temperature will rise more markedly than using other sauna types, increasing blood flow, and circulation
Heat can penetrate the body deeply, warming you up inside. This helps with joint pain and tension
Sweating can cause an increase in water loss, leading to a dip in your weight.
Anyone can use the infrared cabin sauna; it is harmless. However, it is still wise to consult your physician before first-time use.
Infrared cabin saunas have many other benefits, helping various illnesses/disorders such as arthritis, pain, asthma, fibromyalgia, and more. Reach out to the experts at SaunaFin to find out more about how you could be reaping the benefits of a cabin sauna as soon as possible!
Barrel Sauna
Barrel saunas are quickly gaining in popularity. A barrel sauna heats more rapidly than a cabin sauna because of its barrel shape. The shape also allows for a more even distribution of heat. Heat does not get trapped at the top because of the circular nature of the barrel sauna. The wood in your sauna will expand and contract with temperature changes. A barrel sauna accounts for these changes since it doesn't have the same amount of screws, nails, and bracing as a cabin sauna. This means that a barrel sauna could have a longer lifespan!
Another thing to consider is the pleasing shape of a barrel sauna. Because it doesn't have a roof, it has a better snow load for those freezing Canadian winters. Naturally repelling insects and water, Western Canadian Red Cedar is the wood used on this outdoor sauna. This type of sauna is highly efficient. It takes less energy to heat the sauna because of the efficient use of air space. You can add seating with built-in back support and be in bliss. A barrel sauna is outdoors and adds a sweet aesthetic to your home. It can be enhanced with vegetation and placed nearly anywhere. Get in touch with the experts at SaunaFin to determine if a barrel sauna is right for you!
Electrically Heated Sauna
Electric heaters are ideal for smaller saunas that cannot use wood-burning heat because it would get too hot in the sauna. Electric heaters are easy to maintain and easy to control. Electric heaters will maintain temperatures that a wood-burning stove cannot. An electrical heater will require professional installation.
Wood Burning Sauna
Wood-burning saunas are famous for the immense heat they produce (recommended for saunas larger than 36 square feet). A wood-burning heater has easy installation, a dreamy ambiance, and of course, traditional use. Wood-burning saunas are meant for outdoor use.
How will you know which sauna, heater, and accessories are right for you? Call the experts at SaunaFin today and get started on your journey to sauna ownership. We can help you decide which sauna is best suited to your needs and desires. Don't delay-- get in touch now!