How to Incorporate an Outdoor Sauna on Your Backyard
There are many ways to incorporate an outdoor sauna in your backyard. You can consider a barrel sauna for a simple and practical option or the outdoor cabin sauna, a traditional box-like sauna with two-level benches. Depending on your needs, the size of your backyard and what other landscaping has been done will help you decide what is the best outdoor sauna for your backyard. SaunaFin is a leader in the industry offering an array of indoor and outdoor saunas.
Keep reading to learn more about incorporating an outdoor sauna on your backyard.
Barrel Saunas for Simplicity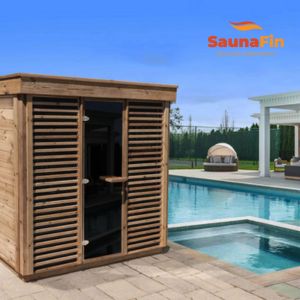 Barrel saunas are a great addition to your backyard. Barrel Saunas offer a lovely aesthetic and have 1 ½" thick walls, which provide natural insulation. The heating area is much smaller than rectangular saunas and a great-looking addition to your property. You can place barrel saunas at the cottage as they offer a large window for a nice view. There is also the Panoramic Barrel Sauna which has a full-size acrylic bubble from which you can enjoy a fantastic view.
Barrel Saunas are also an excellent complement to a pool or hot tub and a nice place to sit after a swim in a pool or lake. Barrel Saunas come in clear and knotty Red Cedar or White Cedar.
Barrel Saunas provide a rustic vibe to a yard and are best for large properties or cottages.
Cabin Saunas
Another option for an outdoor sauna is the Cabin Sauna. One of the Cabin Sauna models has just a window on the door to provide a more intimate space, so you can just sit and relax with your thoughts. A cabin sauna can fit well in your backyard; it's small and made of beautiful White or Red Cedar wood, so it doesn't look artificial and will work beautifully with any backyard landscaping.
Luna Saunas
If you are looking for something with a modern feel, the Luna Sauna is the perfect choice. The Luna Sauna has an entire glass wall, letting you enjoy a great view and providing a sleek finish. If you are looking for something a little more modern and want to move away from a rustic feeling, the Luna Sauna is perfect.
The aroma from the cedar wood is also quite comforting and will help you relax, enjoy the view and destress from a busy day.
Accessories to Enhance Your Sauna Experience
Although the cedar wood saunas provide a beautiful scent to unwind, you can further accentuate your sauna experience by adding aroma therapy and choosing essential oils that help boost your mood or allow you to relax.
You can add music you want to unwind to or make it feel like you are genuinely basking in a spa.
Lighting can also provide the look and feel you want from your sauna experience.
SaunaFin for Your Outdoor Sauna
SaunaFin has a 60-year track record of providing high-quality saunas to property owners. We offer exceptional customer care and have no doubt you will love your new SaunaFin sauna.